This holiday season, finding the perfect gift at an affordable price is more important than ever. That's where Nixon comes in.
If you're shopping for a boyfriend, husband, father, son or friend, start your search by checking out Nixon's men's gold watches. These timepieces are guaranteed to upgrade his look and they won't cost you an arm and a leg!
Here are 10 gold watches we're looking at this holiday season.
10 Best Nixon Gold Watches for Him

1. All Gold Time Teller – $125
The gold Time Teller from Nixon is a classic watch that never goes out of style. Its minimalist design creates an air of simplicity while the gold watch case, band and dial elements boldly standout. A 10 ATM waterproof rating means there's no need to fear any potential water exposure. You can find the Time Teller design in a wide variety of colors including all black, silver, and two-tone combinations like gold and green sunray.
If the man in your life prefers a retro digital look, the Nixon Re-Run is the perfect watch for him. The watch case is slim and on the smaller side, measuring 38.5mm, so it's a perfect option for men with slimmer wrists. And like many digital watches, the Re-Run comes with a calendar, alarm, light functions, a countdown timer and dual time capabilities.
Another gold digital watch option from Nixon is the Heat. The Heat was designed with input from world champion surfer John John Florence and is the perfect gift for a man who loves being active. The Heat is a rugged but stylish timepiece that is never out of place. He'll be able to wear it to the gym, into the water or at the office. The Heat is available in 9 different colors.
If you're shopping for someone who appreciates a larger and more bold watch, then the Nixon Corporal is the watch you'll want to check out. The case measures 48mm, making it one of the larger styles in this list. This Nixon field watch features an oversized bezel and a recessed crystal to give it a look of hardcore durability. A bonus to going with the Corporal as a gift is that you can have this watch engraved with a special message!
5. Gold Regulus Stainless Steel – $250
Inspired by design input from actual military personnel, the Nixon Regulus is one of the most rugged digital watches we've ever seen. But don't let the ruggedness fool you! This Nixon gold watch screams streetwear style. The Regulus Stainless Steel is packed with features including dual countdown timers, stealth mode, a shock-proof brain and so much more. Like the Nixon Corporal, you can also have the Regulus Stainless Steel engraved with some special words.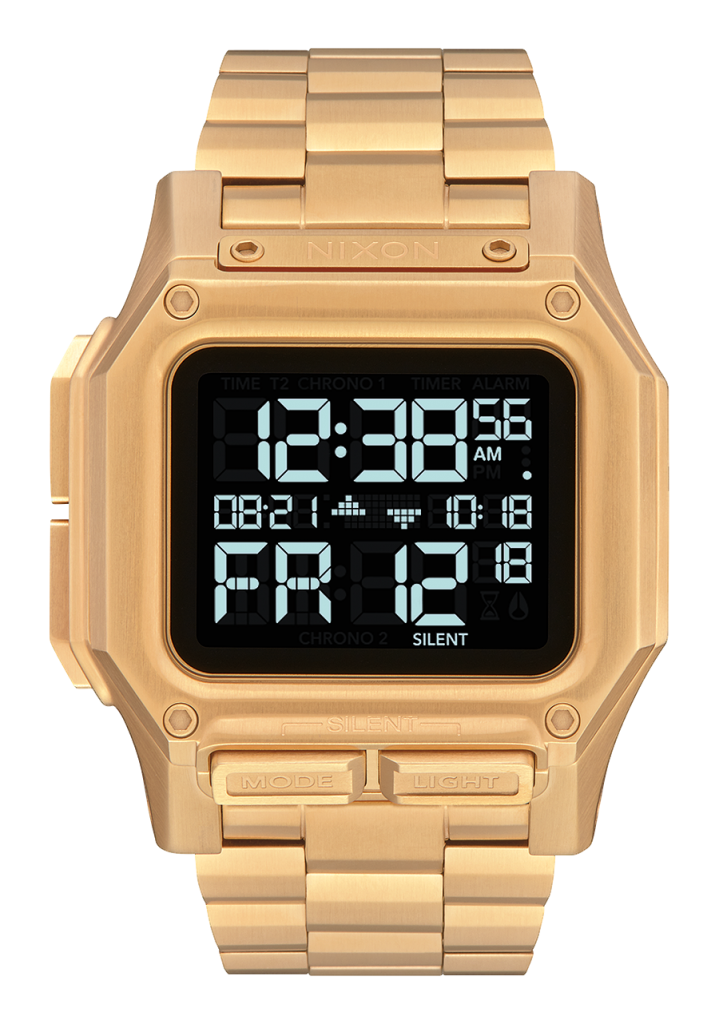 6. Gold and Black Sentry Solar Leather – $250
For shoppers who prefer to go with more sustainable products, the new Nixon Sentry Solar Leather is a gift idea to consider. The Sentry is one of Nixon's all-time favorite models, and in 2022 they updated that fan favorite with a solar-powered movement. That means less battery waste! And you need not worry about keeping your Sentry Solar charged – just one hour of exposure to office lighting is enough to power this solar watch for an entire day.
7. Gold and Black Sentry Solar Stainless Steel – $300
The Sentry Solar Stainless Steel is simply the stainless steel version of the Sentry Solar Leather featured above. This is the solar watch you'll want to choose for a more dressed-up look.
8. Gold and Black Spectra – $375
No watch movement type is more revered than mechanical movements. The Nixon Spectra is just that. It features an automatic movement which winds the watch each time it's moved. This also means that there are no batteries ever required! The Spectra features a see-through watch face which gives observers a look into the mechanics of this beautiful timepiece.
9. All Gold 51-30 Chrono – $500
Near the higher end of the Nixon watch collection is the 51-30 Chrono – the ultimate statement piece. This chronograph watch features a rotating bezel, a massive 51mm face and an impressive 30 ATM rating. The 51-30 Chrono comes in a wide variety of color options. Plus, you can visit Nixon to customize your own watch. Or choose this variation and have the back engraved!
10. Gold Rolling Stones 51-30 – $550
Lovers of the legendary rock band The Rolling Stones will absolutely adore the Nixon x Rolling Stones collection that recently came out. The 51-30 here is one of the headlining pieces. It features a font reminiscent of neon signs and a bold Tongue graphic that fans know and love.
What's your watch style? Let us know in the comments below!
Read more: