Halloween is right around the corner and that means fun work events, themed parties, and candy, lots of candy. If you have just been invited to a costume party for Saturday, you might be feeling a bit overwhelmed. Especially if you're not in the mood for spending a ton of money on an over-priced costume you know you'll only wear once.
If you're questioning your RSVP decision, or you know you have to dress up for work this Friday, consider one of the looks below:
All you need is a LBD and some hair skills (which we'll give you). See! Easy. Peasy.
80's Teen Queen
Whether your goal is to look like an 80's mall rat or an 80's Prom bombshell, you may want to get reacquainted with heavy duty hairspray. Tease, spritz, done. Or consider bringing the scrunchie back!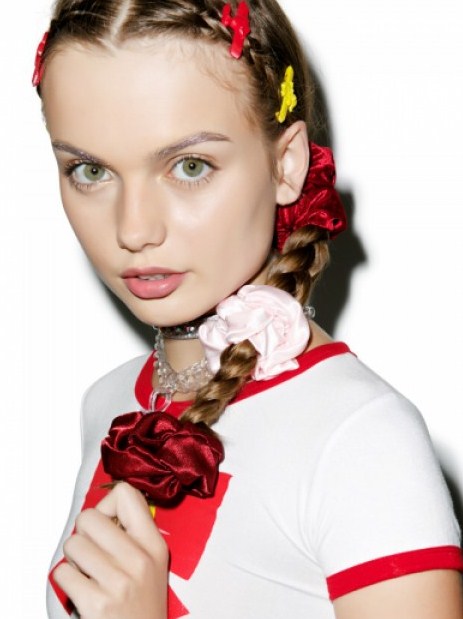 Silk Scrunchie: $8.00 via Dolls Kill
As for your attire, wear your favorite LBD, and just add a leather jacket over it. If you want less prom and more mall rat, wear leggings, sneakers, and either a cut up old tee or a sweatshirt.
20's Bombshell
We know, being a flapper just seems so…blah, but short hair and fringed dresses aren't the only way to be a 20's bombshell. Instead, go for a more elegant look. For your hair, you can wear a bedazzled headband with a side braid, or you can put your hair up in a mess up-do. Just make sure you add a headpiece of some sort (a feather will do).
Keiko Lynn in her Jazz Age best
As for your attire, wear a LBD and that floral kimono you bought over the summer. *we know you have one*
Kitty Cat
If all else fails and you literally only have 10 minutes to get a costume, being a cat is always a good back-up plan. You'll look cute and you won't have to buy a single thing (unless you don't have a headband and paper, then yes, you will need to buy things).
Want more budget friendly Halloween costume ideas? Check out this post from 2011 (retro!).
What are you being for Halloween this year? Let us know in the comments below!