From the shampoo you use to avoiding cigarette smoke, here are three ways to maintain your platinum blonde hair and lose the brass:
1. Pick your shampoo and conditioner wisely. You're going to want to purchase a purple-based shampoo and conditioner. There are many on the market these days, and as a stylist I have learned that Clairol Shimmer Lights works the best for those on a budget. The shampoo works well but it's the conditioner that is going to give you noticeable results.
After shampooing, leave it on for a full 5 minuets before rinsing out — it has a great toning affect! Check your local Sally Beauty Supply for Shimmer Lights at about $10 a bottle.
2. Tone it down. Going to your stylist every few weeks for a quick tone can get pretty pricey. In between root touch-ups, it's okay to do your own toner. To cut that yellow, I highly recommend T18 (white lady) from Wella Color Charm. It's very affordable ($5 a bottle) and the results are stunning! Make sure you follow the directions perfectly and purchase the correct developer, it requires 20 volume.
If you find your hair is a bit more orange than it is yellow, or if you're going for a more silver or ash blonde, I'd go for the T14 (silver lady), also by Wella Color Charm. It has a blue undertone, rather than violet, making it a bit more powerful.
*Remember: Your hair needs to be a pale yellow for the toner to work properly. If your hair is on the orange side you're going to need to do another bleach session to get that white blonde you're striving for. If you must do it yourself, I recommend the Quick Blue lightener ($15.99) with 20 volume.
Just make sure you're very careful with your hair. You should also consider using the Olaplex system that can be found at Sephora since your hair will be damaged after.
3. Don't smoke. It causes the hair to yellow very fast. If you want to be a beautiful processed blonde, it's something you need to overcome. Otherwise, you'll have to do weekly toners instead of the recommended monthly.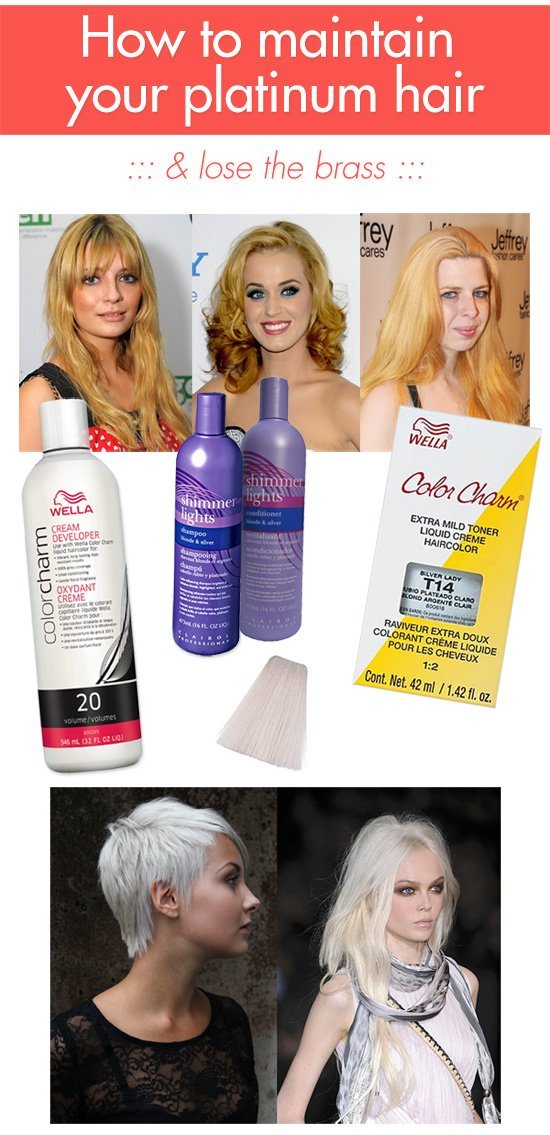 Becoming a beautiful processed blonde at home isn't something I recommend. It is very easy to tell if someone is a box blonde or a professional colorist blonde.
Before you book your appointment, you need to ask yourself "can I afford to be blonde?" It's a very difficult and pricey look to maintain. Be prepared to drop a good $150+ for a double-process at your local salon.
Depending on your current color level and your hair's history, you may not instantly get the platinum blonde you want on day one. Going blonde could take numerous appointments to get you there, and it's best to take the process in steps, as it will be less damaging (especially if you're a natural brunette).
Don't forget to check out Salon Apprentice. Apprentice stylists are always looking for models to go platinum, free of charge!