We're halfway through July, and the weather is amazing, our glasses are always filled with something ice cold, and the street style is on-point in our hoods.
Even though we still have a solid two months until we have to say "hi" to autumn, you may be out of ideas on what to do on the weekends. Sure, you could always have a pool or beach day, but that's not always feasible (or affordable) if you live in a city.
If you're unable to leave the concrete jungle this weekend, consider one of these fun outings — outfit suggestions included!
1.  Wine Walk
It's a balmy, summer night out, so grab your honey and join in on your neighborhood's Wine Walk to beat the heat in your apartment. Stroll underneath the lamp lights of your familiar streets and pop into boutiques and book stores that are changed into wine stations, sampling your way down the white wine list as you chat with shopkeepers.
To keep that humidity at bay, dress up in an eye-catching vintage maxi, and play up it's popsicle-like colors by adding more hues to the mix. Pick caramel colored sandals and let your purse bring in a playful pop to the outfit.
2. Dutch-Indonesian Fusion Restaurant
There's nothing this girl likes more than unexpected fusions. Sunny-side eggs and kimchi? Check. Fried ginger and sea bass? Double check. But one thing that hasn't been conquered yet is mixing Nordic dishes with spicy, Asian touches.
Settle into a corner booth and get ready to be adventurous, ordering interesting plates that shouldn't work like spring Dutch slaw with spicy peanut sauce, or garlic chive chicken with curry cream. Being brave with your dinner calls for a playful look, so opt for a springy vintage number in the form of a long-sleeved mini. Play up its '70s vibe with a suede fringe vest, and then keep the outfit looking sleek with understated minimalist sandals.
*Check out de Quay in Chicago.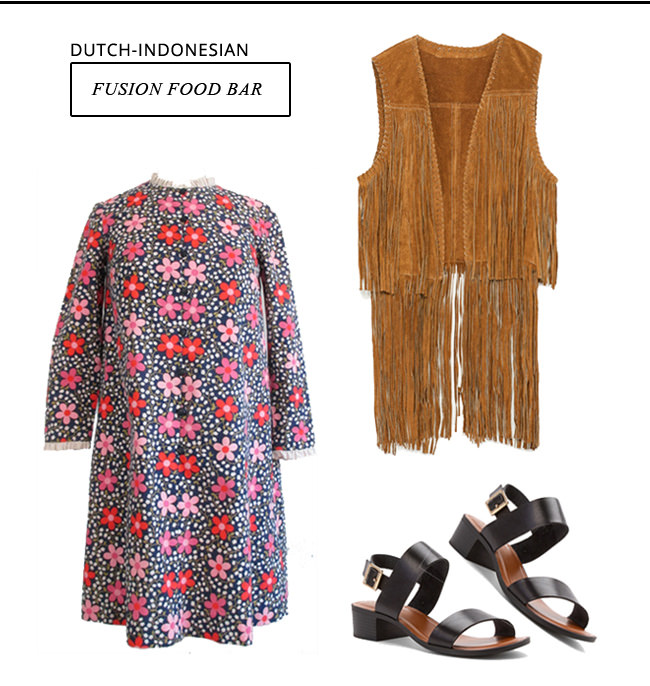 3. Underground Film Festival
Love Jennifer Lawrence to pieces but have been craving ticket stubs that boast a weirder tune? Sneak Twizzlers into your purse and head to this month's underground film festival, where indie theaters will be screening avant-garde artsy films and low brow local comedies alike.
Leave feeling inspired, quizzical, emotional, or just plain confused- but whatever the feeling, enjoy the fact that you gave the creator a chance to hear his or her story….Then persuade your friend to go get a quick coffee to iron out all these fun and confusing feelings over said movie. Since you'll be sitting and shoveling in candy for the majority of the time, go in a comfortable summer dress that shines in its details.
A peter pan collar is always sweet, and you can never go wrong with florals. Keep the same philosophy when choosing your accessories, going for interesting sandals (maybe ones with some fringe?), jewel toned hats (to bring out the flowers' colors), and a purse with a fun shape.
*Check out the best indie theaters in Chicago to see what's playing. 
4. Craft Beer Festival
Whether you're a hardcore IPA type of girl or just dabble with the beer menu when you find yourself on a weekend date, everyone loves a good beer. Discover all the mini breweries your town has by joining in on the craft beer festival, spending an afternoon sampling all the local brews. You might leave tipsy and in need of a burrito afterwards, but there are worse hardships to bare.
Go casual and easy to this laid back affair by choosing your favorite red summer dress and pairing it with a classic denim jacket. Keep the rest of the look neutral with unfussy pieces like a beige backpack and simple flatform sandals, and then add a pop of girliness with a wide brimmed straw hat. Because who can resist a detail like that?
*Check out the Brooklyn Brewery Tour in Brooklyn, NY
5. Food Truck Social
It's like a block party…that moves. Have the rare treat of seeing all the quirky food trucks in your city in one spot, and join your off-beat vintage stores, local breweries, and neighborhood musicians for a slow afternoon of sampling your way down a never-ending menu and rummaging through vendors' treasures.
A fun event deserves a fun dress, so choose your favorite '50s party dress and quirk it up for a modern touch. For example, pair it with open toe booties to give it a millennial feel, and juxtapose the classic shape of the dress with a cheeky printed backpack. Add in cateyes because, hello, cateyes, and wander over to your third cupcake truck of the day.
*Check out Smorgasburg in Williamsburg, Brooklyn. 
Want more event and style inspiration?