I don't know why, but summer leaving and fall arriving has been very hard on me this year. Maybe it's because fall arrived wrong; it was hot and humid all through September, and then, all of a sudden, extreme wind and cold rain. Sure, it's nice today, but how we were re-introduced to cold weather was down right mean. I wanted to wake up one morning to orange leaves and crisp air (not a freezing torrential downpour).
According to my handy-dandy weather app, the weather looks like it'll be on our side for a few days. That means you need to act fast and wear all of your favorite summer outfits before it's too late. Whether you like it or not, below freezing temps are just a few weeks away. If you need some style inspo, below are five celebs you need to copy ASAP:
1. Vanessa Hudgens
I'm always envious of Vanessa's boho chic wardrobe, but this black and white look has me swooning! It's minimalist, it's imperfect, and it's really easy to re-create on a budget.
To make this outfit more fall-friendly, trade out the open-toed shoes for ankle boots, and wear a tan or black cardigan over the white crop-top.

2. Emily Ratajkowski
Emily is either seen lookin' ultra glam or lookin' ultra under-dressed (let's get real). She usually doesn't have an in-between, but she has finally found that happy medium. I'm just loving this simple look: navy skirt, white tee, nude boots, and a black bag.
Think your legs will get too cold? Add a pair of sheer black tights!

3. Demi Lovato
Co-ordinates are so adorable, but they can be very difficult to winter-ify. If you're also crushin' on Demi Lovato's matchy-matchy outfit, consider one of the options below from Missguided.

4. Kendall Jenner
Ms. Jenner was recently spotted wearing cropped high-waisted jeans (and she looked fab). I don't know about you, but I lived in cropped jeans over the summer and I'm sad that I need to put them away for 6+ months. If you love cropped denim as well, consider copying Kendall. All you'll need is a fitted red top and black oxfords.

5. Taylor Swift
I've always been a fan of Taylor's outfits. Especially when she's sporting a look that's a nod to decades past.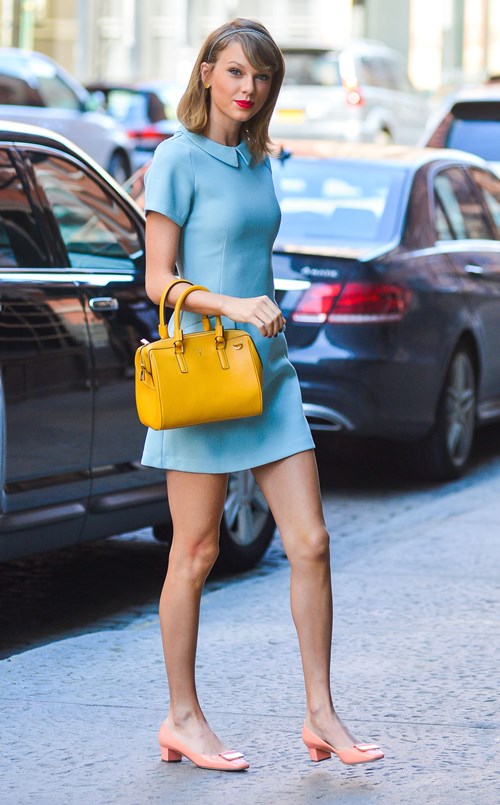 Which celeb look was your favorite? Let us know in the comments below!