Whether you're just starting out or you're a wheat-grass chugging pro, if you want a reliable juice cleanse that will leave you feeling healthy, satisfied and glowing, I highly recommend the 3-day cleanse from BluePrint.
The $20-million dollar a year business has hooked thousands of health enthusiasts who spend $65 a day to have 6 bottles of juice delivered to their home or office. It's massively convenient (if you live in the U.S. or Canada) but it's not cheap.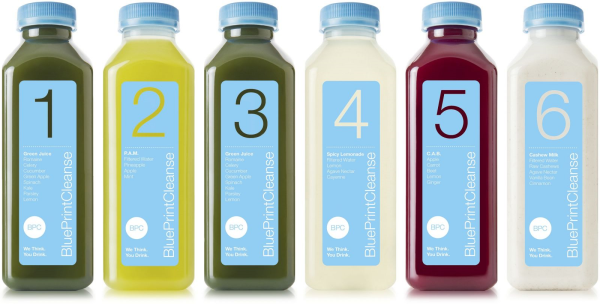 So for all of you who can't yet access BluePrint Cleanse delivery, or to all those who wish to try it on their own, here are their 5 best juice recipes for your pressing pleasure:
Green Juice
Whether you choose the Renovation Cleanse, Foundation Cleanse or Excavation Cleanse, the first juice of the day is the Green Juice. This is six pounds of leafy goodness like parsley, kale, romaine and spinach mixed with celery, cucumber, green apple, and lemon. For one 16-oz juice, gather organically-grown:
5 Ribs of Celery
1/2 Cucumber
2 Large Green Apples
3 large Kale leafs
1 Ounce of Lemon juice
1 Handful of Parsley
3 Romaine leafs
1 (BIG) Handful of Spinach
You can juice all the ingredients in any order you like, although I recommend doing the spinach and kale first as it's the biggest pain in the ass. Make sure not to shove too much spinach down the pipe as it will easily clog.
Cutting everything length-wise (like the cucumbers and celery) will make it easier to feed into the juicer. And no need to throw the lemons in the juicer, simply use an old fashioned squeezer and add this bit in at the end. Stir! Add water if you need.
P.A.M.
Juice #2 is P.A.M or Pineapple, Apple and Mint. This is my boyfriend Tom's favorite as it's light and refreshing with just the right amount of sweetness. For one 16-oz juice, you'll need:
1/2 Pineapple
2 Large Green Apples of Your Choice
A few pinches of Mint, to taste
The pineapple can be a bit slushy to juice so you often have to run the pulp through the juicer a few times. I always leave a few bits of pineapple pulp in the juice as a special treat.
Spicy Lemonade
The Spicy Lemonade is so awakening to your senses and nervous system that I recommend replacing it with your daily coffee fix. This is a great juice to drink in the afternoon of your cleanse between green juices. For one 16-oz juice you'll need:
14 ounces of Filtered Water
3-4 juiced medium Lemons
A few Dashes of Cayenne Pepper
1 Tablespoon of Agave Nectar
Juice all the lemons in a traditional juice squeezer, mix with water, add a bit of cayenne pepper and a squeeze of nectar! Stir & drink (or bottle).
C.A.R.
C.A.R. is the acronym for apple, beet, carrot, ginger and lemon. You'll only find this juice in the Renovation Cleanse for beginners. It's a pretty awesome break in the day if you're not too keen on drinking a massive amount of green juice. To get this simply mix the following in a juicer for one 16-oz serving:
1 Green Apple of Your Choice
2 Beets (cooked)
3 Large Carrots
1 and 1/2 Tablespoon of Ginger
A 1/2 ounce of Lemon Juice (to taste)
For the carrots, I recommend buying the pre-cut baby ones… it'll just make your life so much easier! Add water if you need it!
Cashew Milk
This one is my absolute favorite – because it's pretty much like a bowl of ice cream after a long day. The nut milk is packed with protein and will keep you feeling full until bedtime.
5 ounces of Raw Cashews
16 ounces of Filtered water
1 Tablespoon of Agave Nectar
1 teaspoon of ground Cinnamon
1 scoop of Vanilla Bean Paste
This one doesn't require a juicer! Just a blender. To make it, you'll need to soak the cashews in water the night before. First, blend the cashew milk + water together and add the other 3 ingredients slowly. Sometimes I cheat and add a little bit of banana and almond milk to this one…
Huge thanks to Mitch for collecting the recipes. I've tweaked them based on my experimentation. Happy Juicing!
*This post originally appeared on CourtneyBoydMyers.com. To learn more about the talented Courtney, check out her blog and follow her on Twitter!