Boho lovers know that this style signalizes your uniqueness and free spirit. Besides numerous colorful patterns, Boho wallpapers, materials, and hues distinguishing the style, the pivotal point of boho décor lies in the authenticity of nature-inspired items. Other things that make the bohemian style so viable and original are the distinctive application of multi-cultural aspects and placing different mismatching ornaments that defy the ordinary.
Hence, if you are looking for something truly inspirational and unconventional, embrace the ingenuity of bohemian style in your home and be ready to have all your senses enliven:
1. Go for Vibrant Bohemian Hues
As you strive to incorporate boho style meticulously into your home décor, the first thing to start with are the colors. The biggest difference in contrast to any other interior design décor is that there are no rules related to color when it comes to bohemian decorating.
However, the key is to give the space some sense of uniqueness, so choose warm hues for the walls but contrast them with deep metallic and jewel tones for furniture. Fiery orange, quirky blue and all shades of purple and greys give that eclectic and vibrant feel.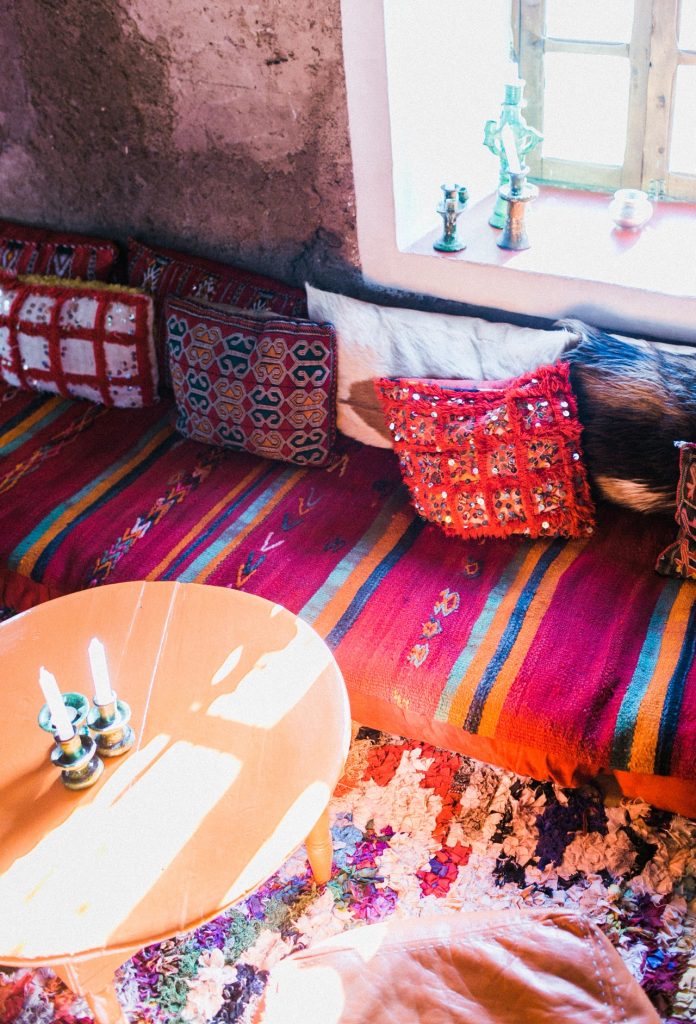 2. Upscale the Accessories
One of the easiest ways to spruce up your home with boho style is to hang any impressive art that you have either bought on your travels or collected throughout life. Hanging artistic accessories will maximally live up to bohemian décor as they give out that unordinary but luxury outlook.
For instance, placing an authentic hand-crafted animal skull like those you can find at https://skullbliss.com/ will utterly revive the interior. Hanging artistic treasures will give the impression of having a gregarious and lively character.
3. Master the Patterned Furniture Look
Creating the most vivid and authentic boho décor demands playing with layers and patterns when it comes to furniture. Don't be afraid to place mismatched items like an emerald green Ottoman sofa versus a patterned Indian area rug. You only might want to keep consistency with the wall and floor colors, in other cases for a lush bohemian vibe feel free to mix and match various shades, scales, patterns, and even textures.
Never settle for ordinary pieces and aim to get low-lying furniture for the alluring bohemian feel.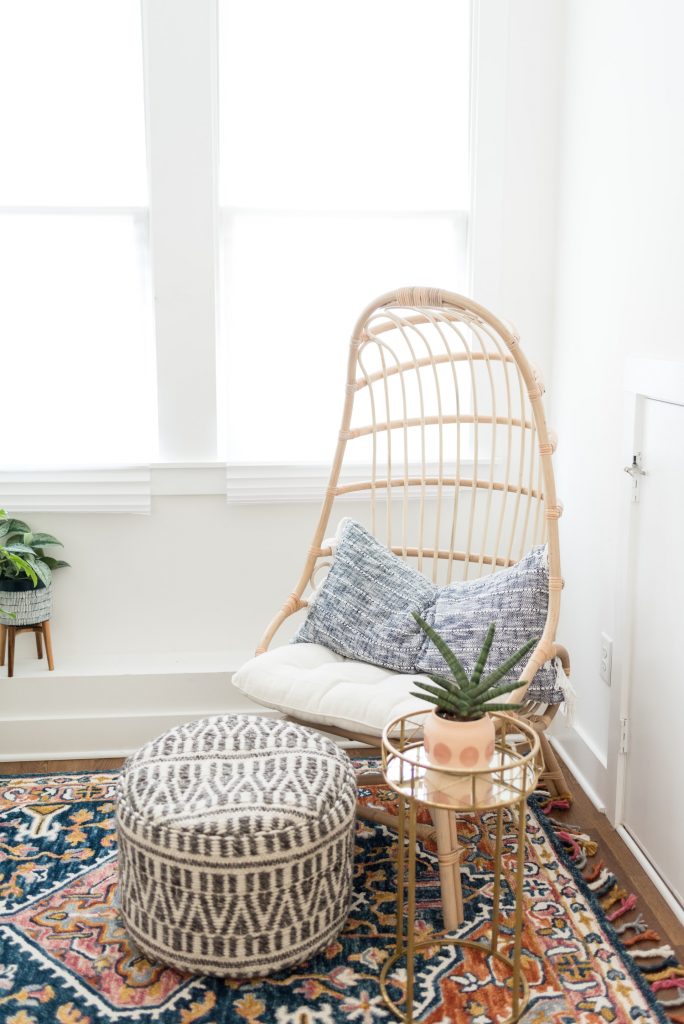 4. Place Charming Accents
Another hack to transforming your timid home into bohemian delight is to make it look historic and exotic at the same time. You can easily achieve this by placing vintage and rustic hand-made ornaments and accents. Plush patterned throw, eclectic floor cushions, dated hardwood coffee table, alluring and bright curtains, etc.
Visit a flea market or shop for some antique goods at thrift shops and source only unconventional but extraordinary items.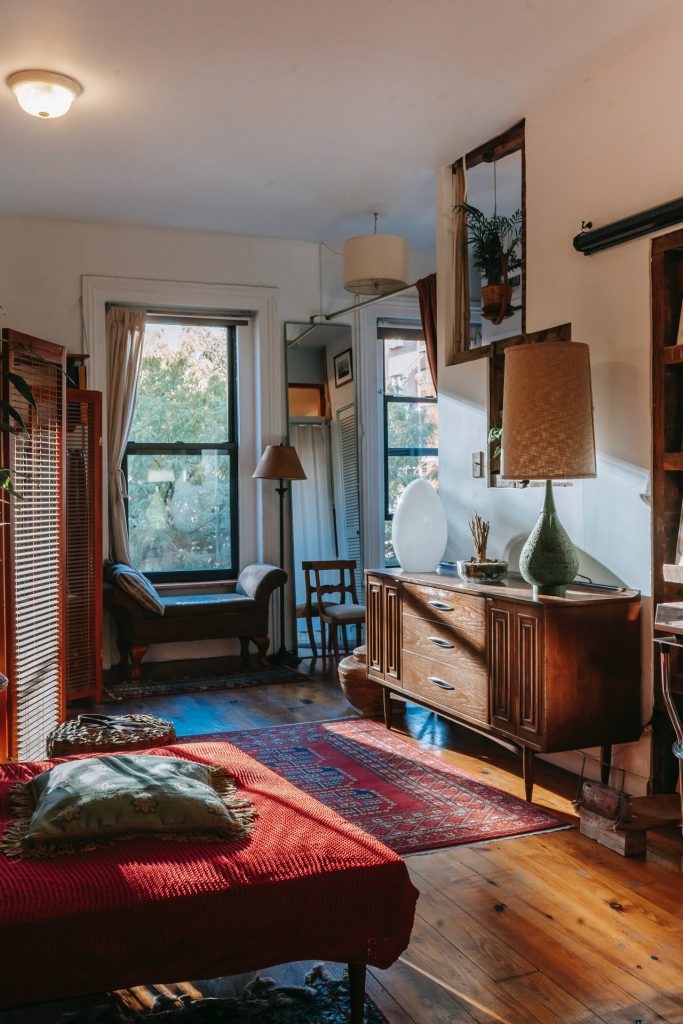 5. Add Lush Greenery
Affordable and magical – botanicals play a vital part in reshaping your home to a bohemian style. Not only do greeneries add some additional dimension to the room, but they have immaculate purifying abilities that will revive the ambient and your inner self.
Whether you wish to hang plants or place them in some multicolored pots, you will undoubtedly add a pop of color without noticing it. Adding luscious planters represents a fun way to add depth in a creative and purifying manner.
6. Incorporate Warn-Out Decorative Metals and Textiles
To embrace the bohemian style you need to aim for bulky, natural, and totally out-of-this-world items. Some of the most common decorative materials, metals, and textiles are fringe, burlap, crochet, macramé, copper, and iron. Macramé, for instance, is a boho must-have. From canopies over beds, picture frames, or pillows to throw rugs and sleek but mismatched curtains. Copper or iron candle holders, chandeliers, or mosaic mirrors are another great decorative item.
Being utterly opposite of minimalist and cosmopolitan décor bohemian style embraces salvaged, bulky, shabby, and multicolored nature-inspired pieces to create a playful visual impact.
Want more decor inspiration? Read more: