Summer is almost here, and unlike last summer, we can actually do things this time around. Restaurants, bars, museums, vacations, and beach days are all going to be available to us for the first time in over a year. Thanks to the vaccine rollout, the world is slowly (but surely) recovering from the pandemic. With that being said, after 15 months of having to stay home looking at the same old walls, you're probably over your space—from the colors to the decor.
With the world starting to open back up again, it may be time to revamp your space to celebrate this exciting shift. Out with the old, in with the new. Hey, you may now even be planning parties at your place after a year of solitude. And what better way to ring in summer 2021 than with a party at your place with your vaccinated friends?
If you are planning a party, or you simply want to make some changes in your home after a year of monotony, here are six different ways you can affordably do so:
Make Your Walls More Interesting
If you have plain white walls and you're allowed to paint, consider giving a room in your home a statement wall. This could be with either paint or wallpaper. A bright pink, a soft peach, or a bold turquoise would all add a pop of color to your home that would radiate positivity.
If you're not allowed to paint, you can still make your walls more visually appealing with photos and art prints. Consider creating a Photowall behind your sofa, above your fireplace, or in your bedroom.
Add Plants
Plants add positive energy to your space and being around greeny has been clinically proven to enhance your mental and emotional health. And after the year we have all had, I think we could all benefit from mood boosters.
After purchasing your plants, you're most likely going to have to re-plant it into another planter since they usually come in unattractive plastic pots. To really let your personality shine through, consider buying basic terracotta pots as well as some acrylic paints. That way you can decorate your own planter. Once it's dry, re-pot your plant. When you throw that party, you're sure to get a lot of compliments.
Give Your Kitchen a Makeover
Okay, this one seems like a lot of work, but a kitchen makeover may be more affordable than you think. Sure, replacing all of your cabinetry and appliances would be extremely expensive, but paint can work wonders. If you have wooden cabinets, you can sand them down and prime them. After the primer has dried, you can paint them any color you like. White would really open up your kitchen, but colorful cabinets have been trending lately. Why not a periwinkle blue or an orange? After you paint your cabinets, change the hardware and boom…new kitchen!
Declutter
If you skipped spring cleaning last year and this year, then you likely need a summer cleaning instead. Consider going the Marie Kondo route. If it doesn't spark joy—get rid of it. When it comes to decluttering, it's usually the easiest to start with your clothes. Make four piles: Donate, Sell, Throw Away, and Keep. After you have sorted everything, bring your donate pile to your local thrift store and go to your local Buy/Sell/Trade store to try and make some money from your sell pile—we recommend Plato's Closet, Buffalo Exchange, and Crossroads Trading Co.
Neatly put your keep pile away and then toss the last pile in the trash bin.  You may even need to purchase some more furniture to increase your storage options for the things you don't want to get rid of. To keep it cost effective, be sure to shop at cheap furniture stores or thrift stores.
Change Your Bathroom Accessories
To start anew this summer, consider changing your bathroom accessories to give the space a different vibe. Changing your shower curtain, bath mat, and towels could make the space brighter and more inviting. Plus, after years of being washed, towels become faded and rough. Treat yourself!
Change Your Decorative Pillows
Pillows may seem small and insignificant, but they can really add a lot of style to your space. Decorative pillows look great on sofas and beds and you can change out the design often if you buy pillow covers instead of decorative pillows already fluffed. IKEA is a great place to go for both pillow inserts and pillow covers. If you change your mind often, you can change them up every month!
While you're at it, you may want to splurge on some nice sheets, too.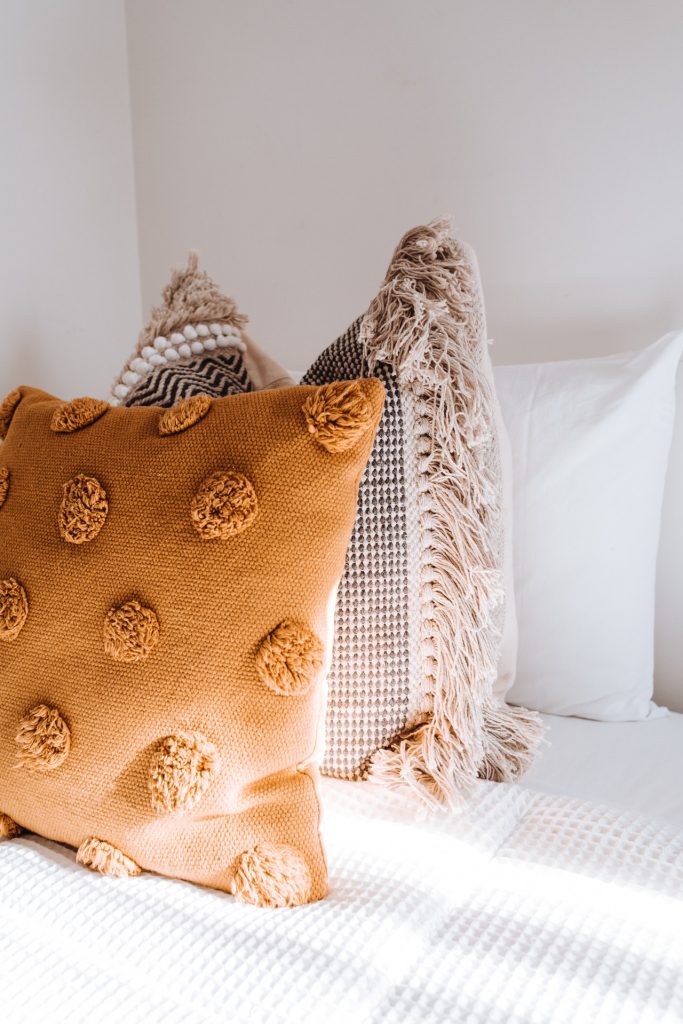 We really hope these tips inspired you to revamp your space to ring in Summer 2021! How do you affordably decorate your home? Let us know in the comments below!