Our lives are influenced by the ancient species that have long since gone extinct. For nail masterpieces, some polish Picassos are reaching even farther back in time: to the old age, specifically dinosaurs. Nail artists are not the only ones taking inspiration from these terrifying creatures.
Nail art with dinosaurs may be as realistic as possible or as cartoonish as you choose, but no matter how realistic or cartoony the design, it is sure to delight any nail art fanatic who has a child at heart. The following are some ideas you may want to take try out: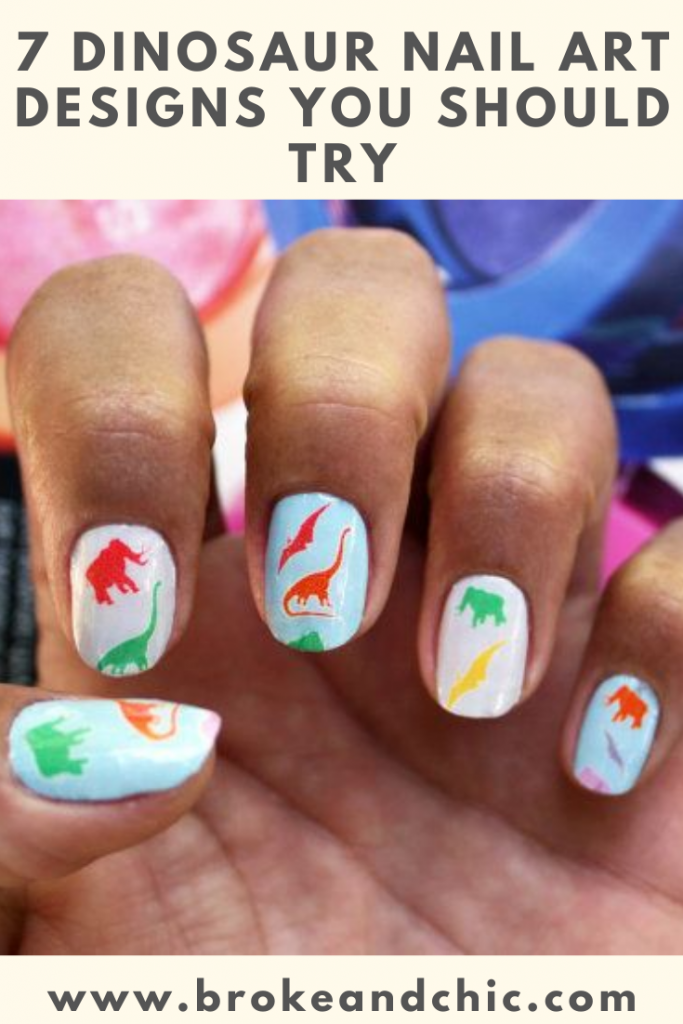 1. Make Your Nails Visible in the Darkness
Do you want to get yourself noticed when you hit the clubs? If so, consider spicing up your look using glow-in-the-dark dinosaur nails. Being custom-designed nails made with glow polish or topcoat that shines brightly under UV lights, you can rest assured your fingers will appear like small glow sticks.
It is everything you want, especially if you want to capture the attention of one or two people. When you want to give your nails a sexy and glamorous look, this dinosaur nail art idea has got you covered.
All you need is glow-in-the-dark nail polish or top coat and some dinosaur decals.
2. Green Never Disappoints
If you want nails representing your love towards dinosaurs, one of the best ways to do so is by incorporating the color green into nail art. It complements this ancient creature perfectly.
Likewise, green tends to work with any design you want to use and can work with several outfits. While at it, you may want to check these awesome visible legs dinosaurs costumes to use for your next Halloween party.
3. Go For a Little Touch of Floral to Make Your Dinosaur Nail Design Feminine
If you want to be consistent with the dinosaur theme but still want to look girly, the best way to do it is by making your nails a little floral.
Along with the dinosaur images, you can add tiny flowers and make them as colorful as possible. Your nails will not only be beautiful but are bound to capture the attention of many.
4. Colored Dinosaur Designs
If you are bored and have chosen the dinosaur theme for your nails, why not color them? Use different shades for each nail and see the results. Blending the color right will make your nails attractive to the extent that you might tempt your best friend to steal the idea. Dinosaur designs barely ever disappoint.
5. Ensure You Have All the Dinosaurs Present
If you didn't know that dinosaurs have different types, now you know. They can be divided into different kinds based on the name, species classification, size, what they ate or where they lived. For your nails, try as much as possible to capture all the different types of dinosaurs. Every time you look at your design, you will be reminded of these ancient creatures, and it can be pretty satisfying.
6. Use the Dinosaur Pattern in Fall Pantone Colors
Mykonos Blue, Illuminating, Leprechaun, Fuchsia Fedora and Pale Rosette are the leading five colors in Pantone's fall this year. You can make your nail dinosaur theme based on these colors and won't get disappointed. What's more, this design choice is of more significance and shows you put some thought into the idea.
Where your nails are concerned, you want nothing but the best. Furthermore, if you can stand out at it, don't hesitate to grab the opportunity.
7. Black Will Always be Perfect
One of the best things about black is that you can mix it up a little bit. For instance, you can paint all your nails black apart from one where you can draw the dinosaur type you like. Likewise, you can draw the dinosaurs in black in each nail and look equally, if not more elegant. Try not to be too casual about it if you want the best results.
When it comes to the best dinosaur nail art designs, you have so many options to choose from. You can concentrate on what you already know, but you could mix up things a little to get a custom design that makes you happy. The dinosaur theme on the nails is an excellent way to put some life into your nails. Even better, whichever design you choose, it will always seem to work for your nails.
*Featured image via Traces of Polish.