Say goodbye to the subtlety. Gone are the dainty jewelry trends of the past as 2019 makes way for big, bold, and bright new accessory options.
If you watched the runways this year you may have noticed the jewelry was more than just a nice added touch. These in your face trends stole the show and quickly became the centerpiece of every outfit.
From over the top hoops to statement-making necklaces, the jewelry trends of 2019 are ready to take your wardrobe by storm.
Want to know the details behind the hottest new jewelry trends? Keep reading for the 7 hottest jewelry trends you need in 2019.
Heavy Hoops
Hoops have been a long-time favorite in the world of earring accessories. They are seemingly timeless yet never fail to add a pop of sass to any look.
This year we are going to be seeing less of the tiny thin gold hoop we know and love and more of the statement hoop. The hoops of 2019 are going to be bulky, thick and even uniquely shaped so they will be impossible to overlook.
Valentino's models rocked these chunky statement hoops on the spring runway and now they are a must-have. Keep an eye out for half-moon, twisted, or oval-shaped hoops to add to your jewelry collection.
Elaborate Enamel
Who doesn't love accessorizing with bright pops of bold color? Lucky for us the enamel jewelry trend will be sticking around for another season.
You may have noticed these eccentric pieces popping up last fall and this fall you'll be seeing them even more. Unique shapes, colors, and designs are what this trend is all about and it can be found in bracelets, rings, and necklaces.
Enamel statement pieces can quickly turn a plain old outfit into a put-together look, so don't be afraid to try step out of your simple jewelry comfort zone to try it. 
Chains
Chains certainly aren't new to the block. People have been using them to accessorize for decades. But this popular street style has turned glam this year with exaggerated chain-link shapes and luxurious finishes to create a variety of sizes and styles seen both on and off the runway.
Whether you are wearing a few gold chain link anklets or a thick chain link statement-making choker, this trend is sure to have you looking hotter than LL Cool J circa 1980s.
Seen on the 2019 spring runways of top designers like Hermes, this jewelry style is bound to hang around for a few seasons. 
Super Star
The stars have aligned, and that means celestial-themed jewelry is back on-trend. This is a style that seems to go in and out every few years and lucky for us, this year stars are a go. 
Sparkle like the heavens above with star embellished rings, earrings, and necklaces from top jewelry designers around the world. This updated take on a classic beloved style includes lavish embellishments of not only stars but also suns, moons, and planets for the complete galactic experience. Add in some celestial jewelry to your accessory wardrobe to truly take it out of this world.
Feelin' Floral
Nothing says hello springtime quite like floral accents. And just like we have seen a resurgence of floral printed clothing in the past year, floral jewelry isn't far behind.
This vibrant, delicate and feminine trend will have you feeling like a walking bouquet of fresh-cut wildflowers. From sweet and simple to bold and bright you'll find floral accents in a wide variety of colors and sizes to suit the tastes of every wearer.
Whether you choose to sport a pair of small flower earrings or wear a mini garden on your neck, this jewelry trend of 2019 will have you feeling springtime vibes all year round.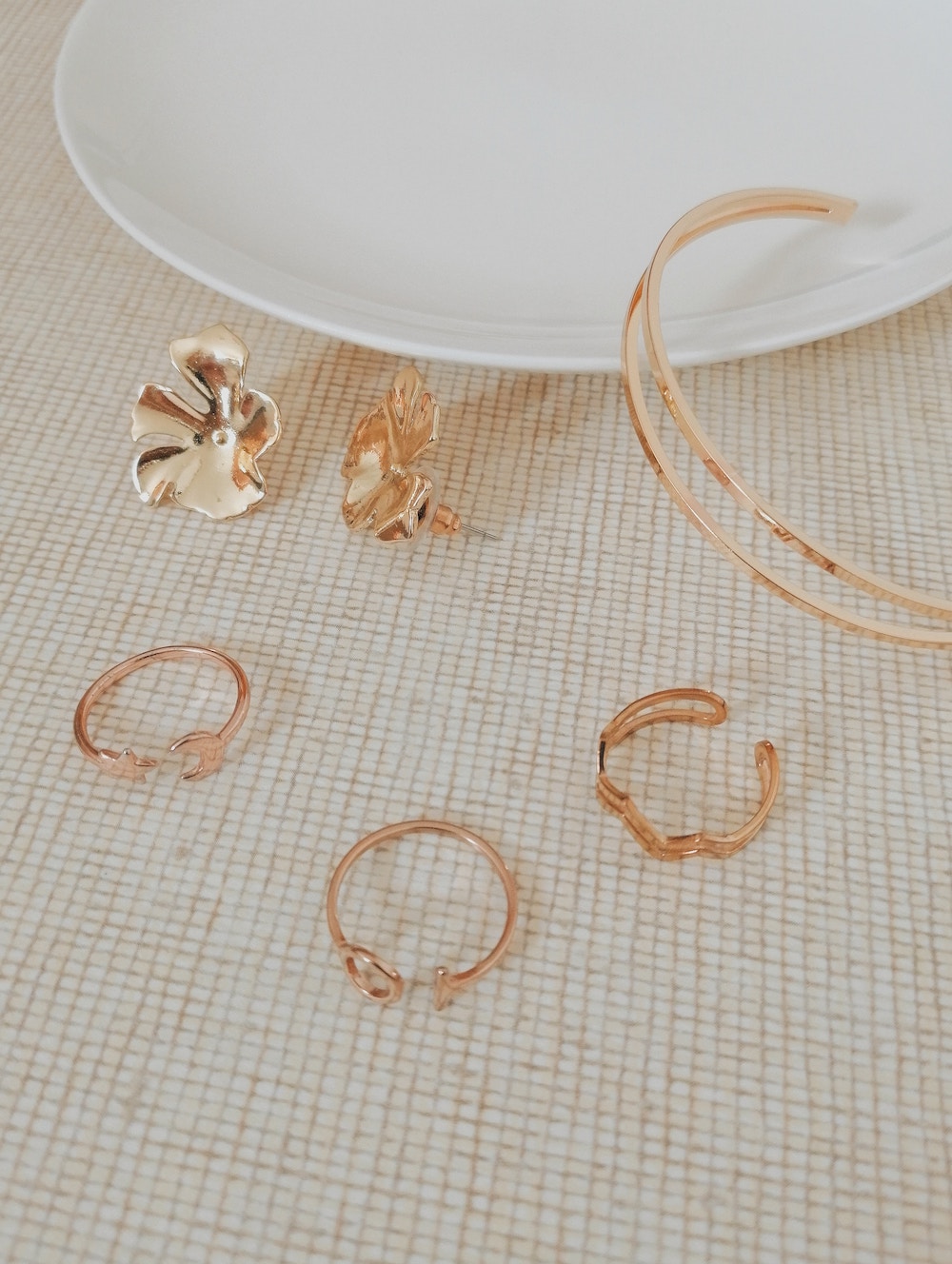 Coin Collector
We've seen coins trickling into the jewelry world for a few seasons now. Often as a main pendant or dainty pair of earrings.
Well, 2019 is here to take this to the next level. Coins are the way to go if you want to look posh, polished, and dripping in gold.
The coin necklaces seen on the runway this year were overloaded with change of all sizes, many even combining the new gold coin rush with large link chains for a double trend alert. And what looks more fabulous than wearing exotic coins around your neck?
Charmed
As a child, one of your favorite accessories was most likely a worn-out charm bracelet. Whether you bought one pre-fashioned or went through the stage of begging your parents for a new charm every time you went to the store, you know how great it feels to have those sparkly dangles around your wrist.
Well, get ready for ultimate feelings of nostalgia because charm bracelets are back! And we'll all be hopping on this jewelry bandwagon quicker than you can say Claire's.
Charm bracelets are fun, colorful, and totally customizable so you can make sure everyone knows your favorite animal and favorite food. 
Wearing Hot Jewelry Trends of 2019
If you want to stand out for your choice of accessories, then be sure to try out these hot new jewelry trends of 2019. From floral to enamel and everything in between these trends are fresh off the runway.
By incorporating these into your daily style you'll have everyone impressed by your sense of fashion. And remember, just like these new trends 2019 is all about being bold.
Do you want to keep up to date with all current fashion trends? Be sure to check back on our blog often for what's hot and what's not!