Everyone has been to a wedding or party where the party favor has been less than well received. Another bag of candied almonds? Not appetizing, cute, or even consumed by anyone at the event. Up your party favor game by choosing something that your guest will not only take home with them, but will mention for years to come. 
1. Personalized Wine Bottle
This is a classy idea that can celebrate the occasion with a personalised wine bottle label. It's not as expensive as you think especially for a smaller, mini bottle that holds about half a bottle of wine. You can even buy them in bulk, print the labels yourself, and easily attach. Everyone adores wine so you can't go wrong with this party favor.
2. Mini Gum Ball Machine
This is a great option if you're a candy loving couple! To keep costs down, buy the mini gum ball machines in bulk on a site like Amazon or Overstock. This will prevent you from going over budget.
To really make an impression with this favor, use gum balls that match your wedding colors!
3. Engraved Glass
You can do either a stemless wine glass or even a down home mason jar engraved with the date of your event. Or just monogram it with the couple's initials if it's a wedding favor. Even a love quote from a favorite poet is a nice touch that will make the glass more valuable.
4. Mini Picnic Baskets
Another very quaint idea, you can fill the basket with many different options. Edible ones are the best though, so a couple of gourmet cookies or macaroons will do the trick.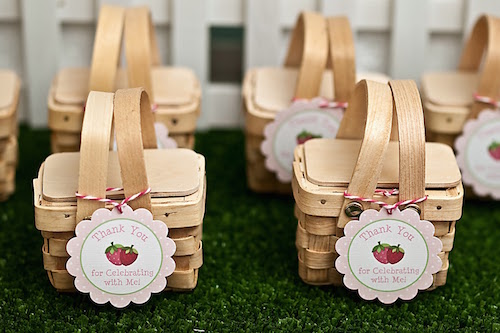 5. Table Top Lanterns
These not only double as a favor, but when fitted with a battery operated candle can look extra gorgeous in a circle around the guest's table. It saves you on table top decor, and doubles as a favor. You have to love 2-in-1 ideas!
6. Salt and Pepper Love Bird Shakers
This is a practical idea, but is special enough that the guest will want to remember to take the item home. Party favors that will win over the crowd at your next event don't have to be something frivolous. Everyone needs an extra pretty set of salt and pepper shakers. 
7. Personalized Lip Balm
Even guys can use lip balm, so having a set made up as party favors is a great idea for a bridal shower, baby shower, or wedding event. You can even decide what flavor you want to have. It's all up to you, but placing a customized label on the packaging will commemorate your event.
8. Photo Booth
 With party favors, you want something that is going to be taken home by your guests. Other then items placed on the tables, you can have a photo booth to take fun pictures that your guest are sure to cherish. There are many photo booth props that you can add to it to make it more exciting and fun. Photosnap is an exceptional company specializing in photobooth hire in Perth. Your guests will be dying to climb into the mirror photo booth, pull ridiculous faces and prance around in a variety of props.
Not only will these party favors win over the crowd at your next event, your friends will feel the need to step up their own game at their next event.