Getting married soon? Congratulations are in order but you can't stop and smell the roses yet! You have a wedding reception to plan.
Learning how to plan a wedding reception isn't as easy as some might assume, however. There are a lot of small details that you could miss. Nobody wants to experience a disaster during their most-awaited day.
Don't fret, though, we're here to walk you through it. Read on for a step-by-step guide to plan a wedding reception: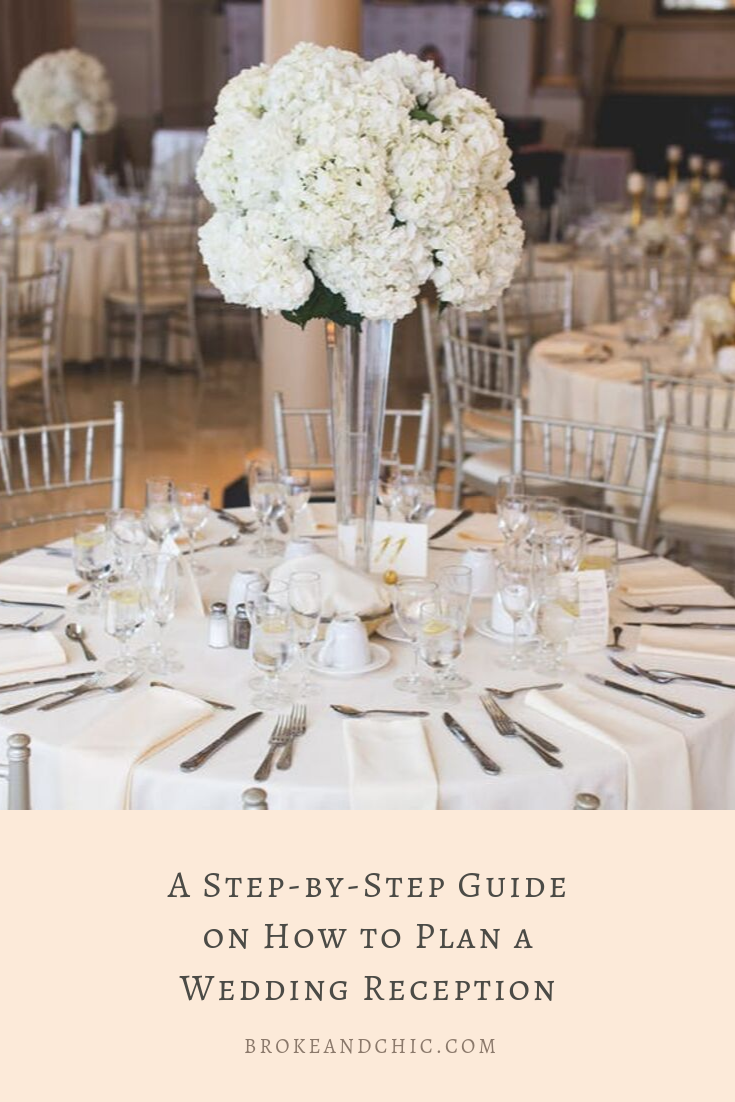 Set the Date First
Before all else, make sure you finalize the date of the wedding reception. This is the most crucial step because it can gravely affect your expenses.
For example, some venues charge more if the wedding is on a Saturday in the summer because that's a popular choice. More people want that same date, which gives the venue owners more reason to raise prices. 
Setting the date first also lets you plan out everything else. Now you can tell the baker when you need the cake and you can set aside time for the tailors to get your wedding dress done. It also lets your friends and family prepare ahead of time.
Finalize Your Guest List and Budget
Got a date? Great, but now you need to finalize your budget. On average, the cost of a wedding reception is about $33,000 and you'll want to get the most out of every penny spent.
To achieve that goal, you have to list all your guests. This is important because the venue owners and caterers need to know your total guest count.
Some service providers have a minimum requirement – some require at least 50 guests while others can go up to 100 before they agree. Your budget has to fit in the number of guests required while still satisfying the number of guests you initially hoped for.
Your budget will also determine the kind of photography services you can get, the type of wedding dress to wear, and the floral arrangements too.
The Right Venue
With a date, budget, and guest list in tow, you need to go around to different venues and see which one checks all your needs. Is this venue available on the date you want, can they cater to that many guests, and does their fee fit within your budget? 
Don't settle on the first one you find, even if they fit all your criteria. It's best to have multiple options and then later weigh all their pros and cons. 
One deciding factor is the theme you want. We'll tackle that next and see how it can affect your choice of venue.
Pick a Theme
Got a budget, guest list, a date, and a potential venue? Once you do, that means you've passed the hard part of planning a wedding reception. Now it's all about the finer details that make your wedding reception unique.
Start with your theme. You can play it safe with something traditional or explode with unique reception ideas that help make your reception stay memorable for years to come.
Do you want a theme that focuses on a black and white, very formal atmosphere or do you want to go wild with colors and flowers? Do you want to celebrate love on the beach and match the reception with the colors of the sun setting on the waters?
Your theme affects the venue you pick, the type of clothes to wear, and even little details like the music to play or the drinks served at each table.
Food Above All Else
Most people won't remember if the chairs were fancy or what kind of flowers were on the table. Many won't remember the songs played in the background or the rambling speeches made by the bride and groom's parents.
One thing they will remember is the food.
Remember that many people go to wedding receptions to mingle and enjoy a good meal. Yes, that's a little crude but the food at your reception does make a big impact.
This is why learning how to plan a wedding reception means putting a large portion of your budget on catering. Take time to taste-test the food you'll add to the reception's menu. Consider every dessert you put on the table and the wine you serve too.
Know Your Program Schedule
If everything goes down right, the wedding will be a lot of fun. The danger here, however, is that it's easy to lose track of time when everyone is having a good time. Make sure you have a set program schedule ready and try your best to stick to it.
You don't have to list down every detail. Focus on the big things first: what time will the caterers serve food, when will the performers since, will there be dancing, when do you insert speeches, and will you have games? All of these have to be set down so that they don't take too much time but still get a chance to shine.
Capturing the Moment
Other than the food, your next big investment is with your choice of photographers and film crew. Don't skimp out on these professionals because they're the folks responsible for capturing all the good moments of your reception.
If you can, hire the best in town. Go for the ones that take pictures in excellent quality and can do amazing cuts with their video editing skills. At the end of the day, those pictures and videos will be all you have to remember the reception so make your choice count!
Hire Professionals
If this all seems like too much work, that's because it is. You have to juggle handling different services, their schedules, your own schedule, and then all your guests too. 
One solution, though a bit costly, is to hire a professional wedding reception planner. Let someone else manage the behind-the-scene details like scheduling and talking to the service providers. 
---
Understanding how to plan a wedding reception is no small feat. Fortunately, it's not impossible and with this simple guide we hope you get one foot ahead of the curve. Plan it out carefully and systematically and you'll get to enjoy the best wedding in your life!
Yet why stop here? If you want to discover more great tips, make sure to check out our other articles today. We have more guides here to help you move forward!