A diverse bangle collection can add a lot of character and originality to your wardrobe. Whether you are selecting a pair of gold bangles design online for a casual, formal or a grand occasion, knowing what is available out there on any website and what suits your style is very essential.
Bangles may be a traditional piece of Indian jewellery but its appeal among modern women is equally popular.  In fact, women's bangles which are customarily round in shape have been modified in a variety of ways keeping in trend with the changing styles. Bangles are now sold as bracelets, kadas, clip on and are largely influenced by Western design houses. Buy bangles online made in gold, platinum, encrusted in diamonds or stones and add a little bling to any outfit.
Bracelets
Bracelets in gold have made a comeback with statement pieces, stacks or even charm bracelets that are popular styles. The delicate ones are preferred for their lightweight and minimalistic appeal. Although, simple in look they go well with a wide range of outfits.
Kadas
 Kadas are a thicker version of the bracelet and exude a traditional appeal. Kadas are made with dotted design and the edge of the kada always has a unique and striking design. Embossed in intricate dotted work, the piece suits sarees, salwars, lehengas and can even be worn for regular use. 
Fancy gold bangles
Ideal for occasions, fancy gold bangles are made of gold and carved with intricate work. Some of them are studded with diamonds and rare gems and stones to give it a regal look. Curvy designs, striking patterns give them a classy look making it suitable for ethnic outfits and casuals. With a vast variety of designs, the charm will even force you to carry them on a daily basis.
Simple plain designs
 With absolutely no work and just made in premium gold, these bangles can be worn as a dozen to exude a simple yet striking look. Ideal for housewives who wear bangles online every day and would prefer something which is light in weight, they can be mixed and matched with fancy bangles on occasions to make your hands look full and attractive.
Rajasthani designer bangles
These bangles have their own style with an antique elegance to them. Made in a thick width, they have an ornate peacock, parrot or floral design studded with precious gems. Open on one side these bangles can fit on any hand as they are flexible.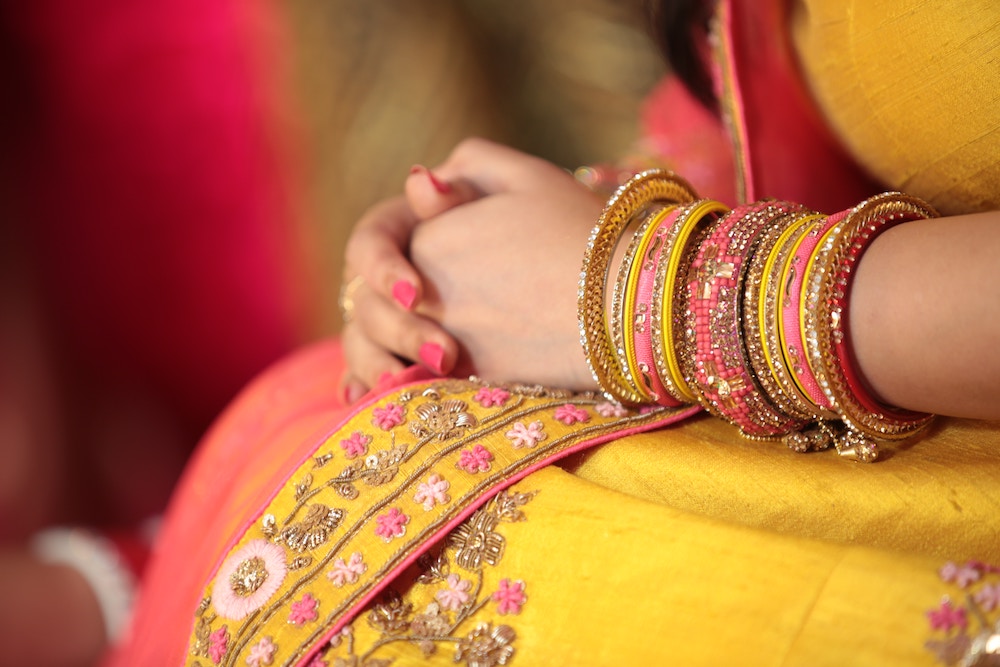 Bangles have evolved and become more about love, purity, fashion and making a statement. With each region of Indian famous for its distinctive and inimitable designs, bangles are made to suit the style and taste of Indian women- be it a housewife, working woman or a young adolescent. With continuously changing fashion trends, you need to own classic and timeless pieces of jewels that can be worn across a wide range of outfits. Each of the above styles speaks volumes and resonates with any personal style whilst complying with the latest trends.