It has officially been 30 years since Miyazaki's Kiki's Delivery Service came out. Totoro will always be my favorite Studio Ghibli film, but Kiki's Delivery Service is a close second for me. Growing up, I never felt like I fit in, so I identified with Kiki so much. I still identify with Kiki. A young girl has to go off on her own to find not only herself, but her power, in a small city that really doesn't know what to make of her. I felt like Kiki when I moved to NYC over eight years ago, and then again this past summer when I moved to Sweden.
I don't want to spoil it if you haven't seen it, but the whole movie makes me feel seen and it just warms my heart. No matter how hard things may seem, or how lost you feel, there is always a light at the end of the tunnel. And sometimes you may lose sight of that light, but if you look within yourself, you'll learn it never really left, the light is in you—it's not a destination.
To go a little deeper, Kiki's Delivery Service also helped develop my tastes in many ways. It's the film that started my obsession with witches as well as entrepreneurship and working for myself. Kiki is a bad ass! The scenery and culture in the film also intrigued me. It seemed so beautiful and mystical. I remember asking my dad where the movie took place and he told me Scandinavia. As a kid, I had no idea what or where that was, so it went in one ear and out the other. As I got older, I learned it was Sweden; and that bit of information started my intrigue with the beautiful Nordic country.
Miyazaki and his team actually travelled to Sweden to get inspiration for Kiki's Delivery Service. They went to a variety of Swedish cities and towns so they could have a better understanding of Swedish architecture and culture.
Koriko, the fictional town where the movie takes place, is a perfect representation of Sweden, both the countryside and the city. Even the culture and personalities in the film are pretty spot on with the Swedes. I know this because I have been living in a small Swedish city for the past three months. So how in the world did a Dominican-American girl end up in Sweden?
When I was 18, I met a girl from Sweden and we became fast friends. Her name is Camilla and she ended up staying in the US for five full years before returning home, so we became very close. We have stayed in touch over the years and I decided to take a leap of faith and booked a one-way ticket to Sweden back in August. I was feeling lost, confused, and unmotivated. Like Kiki, I came here to find myself and my power. Unfortunately I can't fly, but I'm working on it. 😜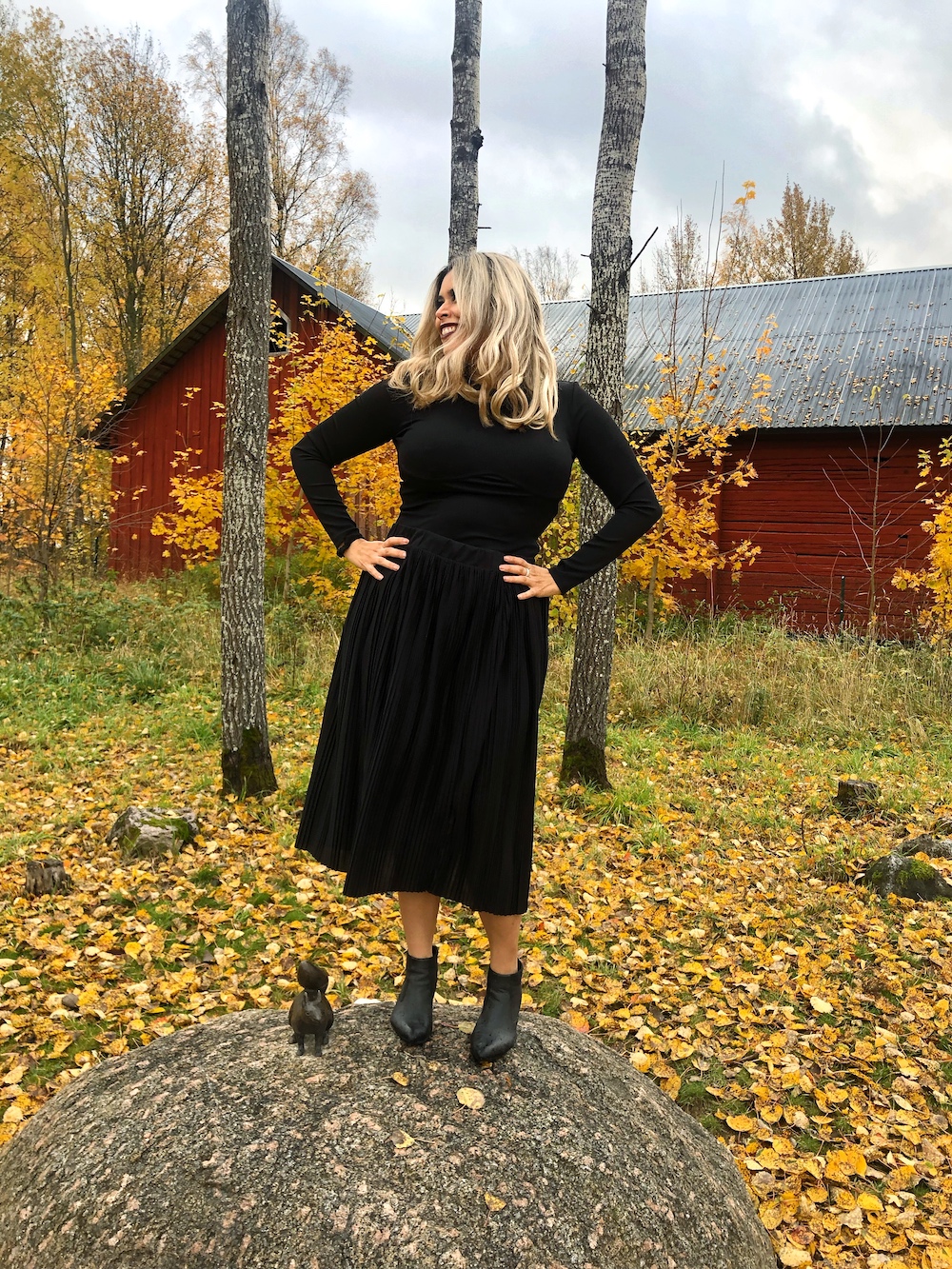 Top: $25 via Gina Tricot (similar)
Skirt: $29.99 via H&M
Boots: $14 thrift find from Myrorna in Örebro, Sweden
Camilla has been my Ursula. Ursula is a woman Kiki met on one of her first deliveries. She was flying over the stunning Swedish wilderness when she dropped the package and a pack of crows made her life quite difficult. Ursula got her out of a jam. Like Camilla and I, they became fast friends. Throughout the film, they both become inspired by each other in different ways and they both learn new ways of thinking from one another. Camilla has been that for me our whole friendship, but especially now. I know I'll be leaving Sweden a stronger, better version of myself. Re-watching Kiki's Delivery Service, and being in this beautiful country has helped me re-find my spark and zest for life.
I feel like I have gone through a similar transformation as Kiki in the same exact part of the world and I wanted to document this moment for those who have ever felt lost or uninspired. Sometimes all you have to do is surround yourself with the right people to help you find yourself again. These people may be old friends, or they may even be new friends. And sometimes all you have to do is step back and look within. You'll always find your power is still there.
As you can see by my outfit, I decided to get a bit witchy to honor not only myself, but Kiki as well. Kiki has been enlightening women and girls since 1989 (1985 if you read the book). Girl power, forever!
What is your favorite Miyazaki film? Let us know in the comments below!