Always wear sunscreen and always wash your face.
Those are the two golden rules if you're striving for perfect skin, and I must say I agree. I wear sunscreen every single day and washing my face both day and night is a must. I just hate how my skin looks and feels if I go to bed with a full face of makeup on (my skin always ends up looking dry and patchy the next day). And that lone zit in the a.m.? No thank you! But like everyone, I have my lazy days, but it tends to be after a late night when I'm wearing a ton of makeup. Definitely not good!
Now that I'm in my mid twenties, I've done a good job at limiting those late nights where I choose to just crash instead of washing my face. My secret? Makeup cleansing wipes. I keep them on my night stand so I can just lay in bed and wipe the day away without a sink. It definitely makes me feel better, but I know deep down that it's not enough…
Because nighttime laziness in unavoidable sometimes, I've gone on the hunt for the perfect product that gets it all off! And guess what? I found it.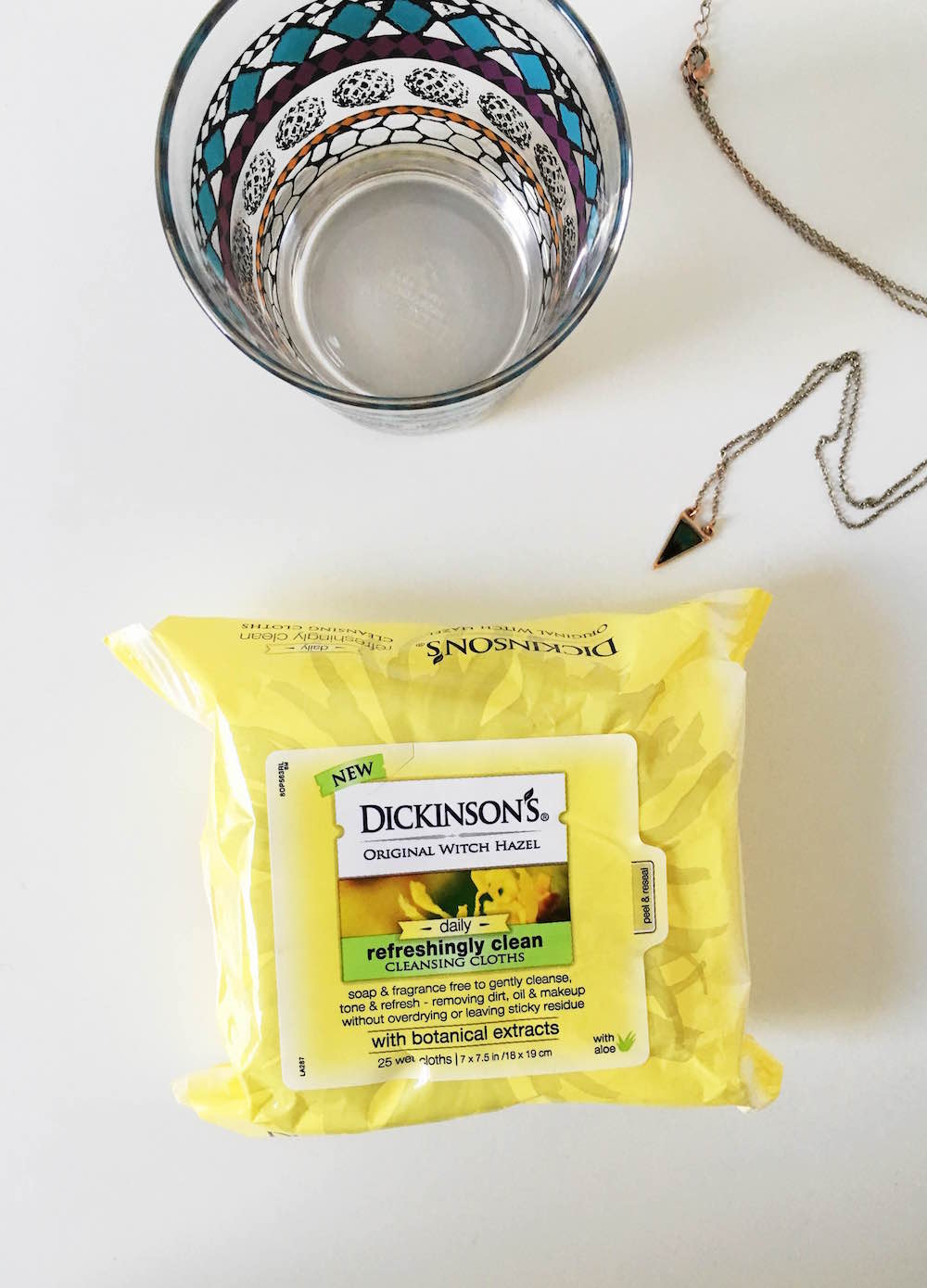 The best kept beauty secret is witch hazel. Yeah yeah, I know what you're thinking: That still requires work (cotton balls, duh). But wait, Dickinson's Original Witch Hazel has come out with the best things ever — Dickinson's Original Witch Hazel Daily Refreshingly Clean Cleansing Cloths.
After removing my eye makeup with makeup removing wipes, I simply take one of the Dickinson's Witch Hazel Wipes to take off all the lingering foundation, bronzer, and highlighter the other wipe isn't strong enough to remove. Dickinson's Original Witch Hazel is gentle enough to use daily to help remove excess dirt, oil and makeup, even on sensitive skin, as it won't strip skin of essential moisture.  Additionally, its toning properties will help minimize the appearance of pores, eliminate oil & shine and nourish even flaky, dull skin. The result is ultra clean skin that will look amazing in the morning.
I also keep a package of Dickinson's Original Witch Hazel Daily Refreshingly Clean Cleansing Cloths in my gym bag. That way I can get rid of all that sweat and makeup before my skin starts acting up.
More about Dickinson's Witch Hazel Cleansing Wipes
Dickinson's Original Witch Hazel has been an all-natural American Beauty Favorite since 1866 and is the best kept beauty secret for radiant, selfie-ready skin.
·         Cloths come in a ready to use vanity pack
·         Non-drying formula cleans deep without stripping skin (ideal for blemish prone skin)
·         Leaves no sticky residue
·         Soap and fragrance-free
·         Dermatologist and Ophthalmologist tested
·         Hand harvested in New England
If you want grab your very own Dickinson's Original Witch Hazel Cleansing Wipes, you can find them for under $7.00 at Walgreen, Duane Reade, and other fine retailers. Want to be the first to know about special deals and offers? Give Dickinson's a follow on Facebook and Instagram.
 *This post was sponsored by Single Edition Media on behalf of Dickinson's.