Fashion is cyclic. Trends come and go, but they're nothing new. We've had the resurgence of every decade, from the sixties and seventies up to the early 2000s and 2010s.
Nobody knows what's around the corner as we enter 2022. Are we going to return to the polka dot skirts of the sixties? Or are we going to go back to the low-waisted look of the noughties? Only time will tell!
Despite the unpredictability of fashion trends, there are certain accessories that won't ever go out of trend. These are the staple items that everyone should spend their money on, regardless of fashion sense or preferences.
So, what are these fashion accessory essentials that never go out of style? We're not just talking about the basic white t-shirts or denim jackets. Everybody knows that these items don't seem to fall out fashion but they're not the only things that are truly timeless.
Here are the top fashion items that need to be in your collection:
Hats
Whatever style of hats you enjoy wearing, you can't deny that they are a staple item. Since hats are an affordable wardrobe item, you can invest in more than one style. This way, you have an option for every occasion.
Whether you love flexfit hats, beanies, or snapbacks, there is something for everyone. Get yourself a few different colors so you've always got a hat to match your outfit. Plus, if you're having a bad hair day, your hat is the perfect cover-up.
No matter what the weather, your hat can save the day. During a frosty winter, it'll keep your head nice and warm, and it will protect your scalp from the sun through the hot summers.
Denim Jeans
There's no denying that a pair of denim jeans are a must-have. They suit almost any occasion, from informal to smart casual, and they match with any shirt, blouse, sweater, or jacket you're wearing. Depending on the style of jeans you're wearing, you can pair them with sneakers, pumps, sandals, or flip-flops.
There are several different styles of jeans, with some of the most popular options being straight-leg jeans, mom jeans, and skinny jeans. You can, of course, also get the classic boot-cut or flared options, which look perfect with a pair of chunky boots.
Whether you prefer light washed denim or a jet-black color, you'll be able to find a pair of jeans that fits you perfectly and accentuates all of your curves in all of the right places!
Straight-Leg Trousers
You never know when you're going to need a smart pair of trousers for a work interview or a formal family event. That's why keeping a pair of basic straight-leg trousers in your wardrobe is essential.
The great thing about straight-leg trousers is the fact that they can be dressed up or down depending on the occasion. They're a staple item that every man and woman needs to keep in their collection.
Aim to get a couple of pairs, one black and one grey. This way, you'll always have a cohesive outfit, no matter what color your shirt or blazer is.
Gym Leggings
Even if you don't work out too often, you will still benefit from keeping a pair of stretchy gym leggings in your wardrobe. Comfy leggings can be worn while you're out and about, whether you're at the mall, grabbing lunch with a friend, or heading to the leisure center for a training session.
If you can, get yourself a few pairs of workout leggings in different colors so that you can mix and match them with the rest of your outfit.
Make sure it's a high-quality pair of leggings that don't slip down easily. The last thing you want to do is pull your leggings up every few minutes while you are working out or walking along the high street.
Staple Jewelry
If there's a piece of jewelry that you've had your eyes on for a while, 2022 is the year to finally make a purchase!
Maybe you've been looking at a pair of pearl earrings, a golden bracelet, or a dainty necklace. Find a piece of jewelry to become your go-to accessory for any occasion. After all, your accessories can make or break your outfit, so find something that complements your style perfectly.
It might a large investment but it's worth splashing out on a high-quality item that will last a lifetime.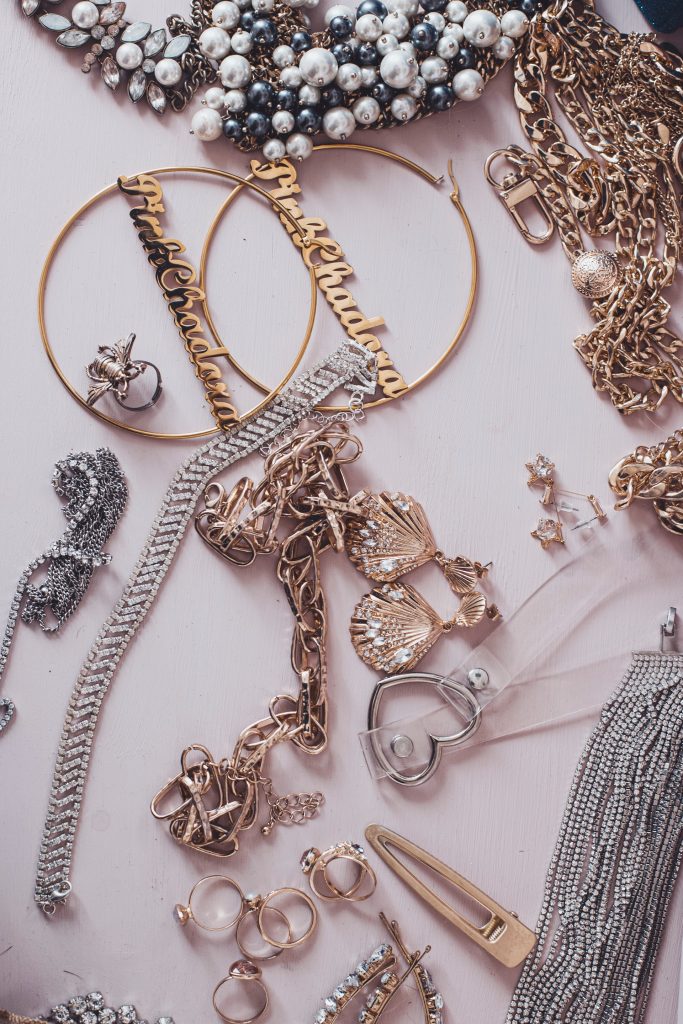 Handbag
Everybody needs a handbag to carry their essentials. Even a small clutch or a larger over-the-shoulder bag will be enough to hold your phone, car keys, and card, which is usually all you need for a trip out of the house.
You can easily find a cheap handbag that will do the job, but if you want something that will last a while, you might want to invest in a more expensive alternative. It's doesn't have to be the most expensive branded bag, but don't be afraid to dip into your savings to find the perfect option.
Chunky Boots
Chunky boots aren't just for winter. They can be worn all year round and they never go out of style.
No matter your fashion preferences, you can deny that a pair of chunky boots look great with pretty much any outfit. Ankle boots are perfect when pair with a pair of jeans and a smart jacket or a summery dress.
Get yourself a pair of black or tan boots to wear for your day trips or evenings out. You don't need to spend a fortune on your boots but expect to pay for higher quality. If you want real leather boots, they'll cost a lot more than faux leather options.
Read more: