Hilary Duff recently went green, and we're obsessed! No, we're not talking about the environment here — although we totally want everyone to be green. Nope, the actress, singer, and hot mama went all over green with her hair.
The 27 year-old was seen leaving famed Nine Zero One salon in West Hollywood just a few days ago, and the mermaid hair (as she called it on her Instagram) really suits her. It's not too bright, and it'll fade into a stunning pastel in just a few weeks.
Sometimes, you just gotta change it up!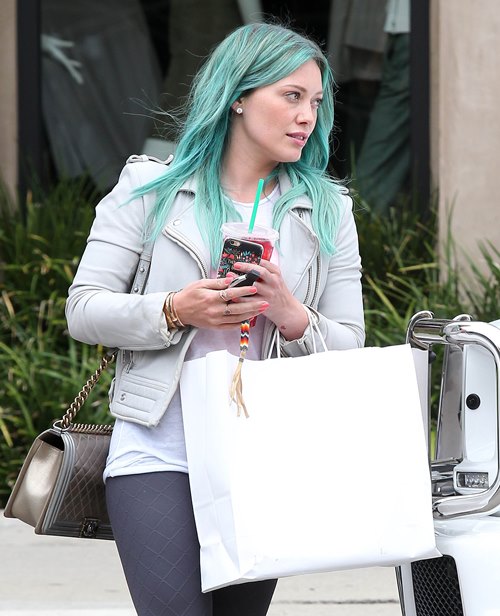 Off-beat hair color has been trending for quite some time now, but did you ever expect Hilary Duff to take the plunge? The most adventurous she has ever been with her hair was when she went brunette for a hot second years ago.
Hilary isn't the only celeb going green these days either, Kylie Jenner and Katy Perry lead the way with green and teal ombre last year.
Want some more green/teal hair inspiration? Check out the looks below!
If you're brave, and want a change for spring, going green might be the way to go. For free or discounted hair transformations, check out Salon Apprentice, which is available in NYC, SF, Boston, Chicago, LA, Seattle, Miami, Denver, and DC.
What do you think of Hilary Duff's mermaid hair? Let us know in the comments below!