Over 64 percent of Americans say that they're happy in their relationships. That's excellent.
But, that doesn't mean that the nature of relationships, love, and marriage hasn't changed over time. Attitudes around love and marriage are always changing. How can we best understand how people's views alter?
What do Americans think about same-sex marriage? Does the importance of the institution of marriage still hold for many? Check out these statistics to discover the answers: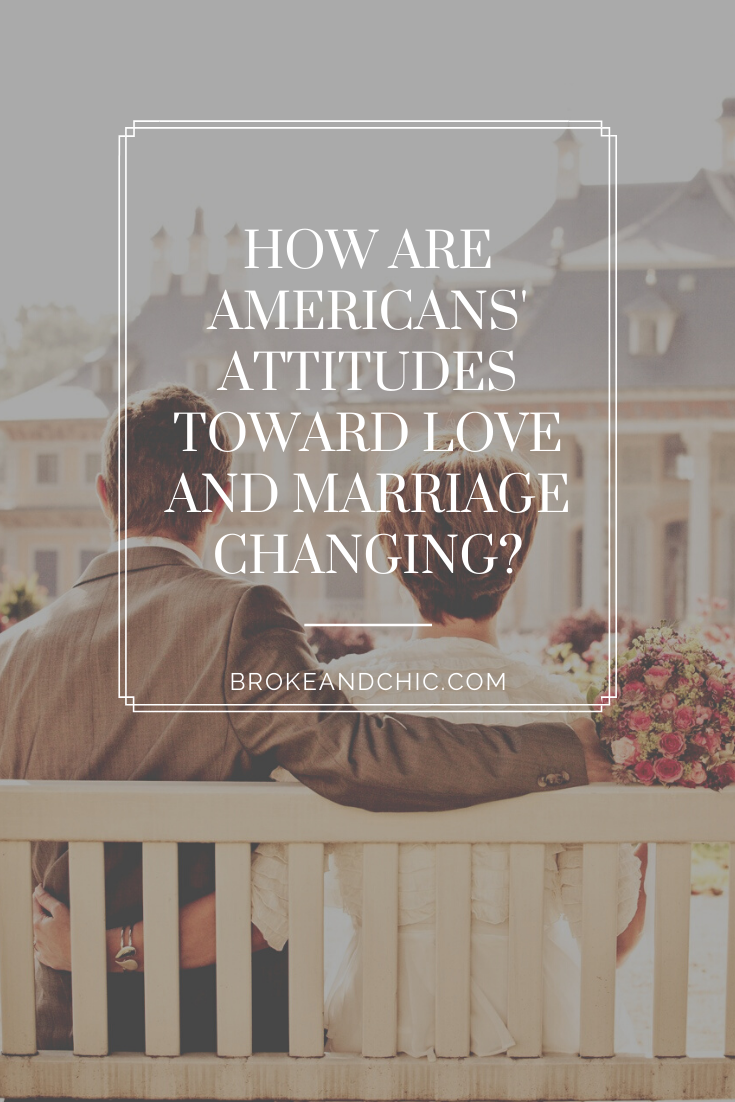 Americans Are Staying Single for Longer 
More and more Americans aren't in a rush to get hitched. Currently, around half of the American adults are married. This hasn't changed much over the past few years. However, if you compare this percentage to 1990 levels, the number of married people has fallen by almost 10 percent.
During the 1970s, over 90% of men and women between 25 to 29 were already married. And yet, now only around 46 percent of women are married by the age of 29. While just 32 percent of men in the same age group have tied the knot.
This shows that many men and women are choosing to stay single for a longer period of time. 
More Couples Are Cohabiting 
While many Americans may be rejecting marriage early in life, cohabiting with your partner is increasingly common in the 21st century.
Around 7 percent of Americans cohabit with their partners. Over the past decade, the number of cohabiting couples has risen by 29 percent.
But, this isn't only the younger generation. Many older Americans are choosing to cohabit rather than rush into getting married.
Moreover, most Americans agree that unmarried couples living together don't make a difference in the fabric of society. This is far away from the "living in sin" attitudes of previous generations. 
Marriage Isn't for Life Anymore 
Now nearly one-quarter of married Americans have already been married once before. Saying "I do" more than once was extremely uncommon for previous generations.  
The phenomenon of people marrying more than once is especially common among men. Up to two-thirds of men who have were either divorced or widowed married again. Comparatively, over half of widowed or divorced women say that they don't want to remarry. 
Marrying Someone of a Different Race and Ethnicity is Increasingly Common
As the U.S. becomes increasingly diverse, more and more Americans are marrying people of different races and ethnicity. In 2015, up to 17 percent of marriages were between two people of different racial or ethnic backgrounds. There has been a gradual growth in intermarriage since the 1960s. 
Intermarriage is especially common among Asian and Hispanic Americans. Both of which have a rate of almost 30% among newlyweds marrying people of different race or ethnicity.
While older Americans may be concerned about intermarriage, the younger generation of millennials and Gen Zers agree that people marrying partners of different races is a good thing for society. 
Growing Support for Same-Sex Marriage
Since 2015, same-sex couples have been permitted to marry each other legally nationwide. This has followed a general trend towards more support for sex-sex marriage. From 2007 to 2017, support for same-sex marriage increased from 37% to 62%. 
Are LGBTQ couples embracing their new civil rights? They certainly are! Nowadays, up to 61 percent of same-sex couples living together are also married. That's a dramatic transformation! 
Americans are Marrying Across Religions 
Another example of changing attitudes among Americans is that more and more people marry across religions.
Previous generations would almost exclusively marry within the same religious group, with Christians only marrying Christians.
It is increasingly common for people to marry partners who don't share the same religious views and traditions. Around 39 percent of couples who married in the past decade have a partner from a different religious group.
However, it is worth noting that in many cases, this includes people marrying someone who isn't affiliated with a particular religion.
Money Can be More Important Love 
Do Americans do anything for love? Apparently, people are increasingly concerned with financial security compared with being "head over heels" in love with your partner. 
Thankfully, the younger generation prioritizes romantic love over money. But, up to 56 percent of Americans say that money is the most important factor in choosing a partner.
More Americans Never Marry
We usually think that people who are single are eventually going to find a partner. However, a growing number of Americans are choosing to never marry. 
What may be surprising to many married couples is that they're actually happy and healthy as well. Apparently, you don't need a partner to be fulfilled in life.
In fact, many singletons have many more friends and closer relationships with parents and family.
Divorce Rates Are Increasing 
The number of people getting married has famously been in decline for some time. Simultaneously, Americans getting divorced is also on the rise.
The divorce rate among the over 50s has more than doubled since 1990. This number is even higher among people over 65 years old. 
This is why it's so important to get a prenuptial agreement before you tie the knot. This can save you the despair if your marriage sadly ends in divorce.
More Americans Discover Love On the Internet
The internet has changed our lives in numerous ways. One example is the growing number of Americans finding love through online dating websites and apps.
Around 32 percent of Americans have used dating apps before. People are searching online for a variety of things. This includes the desire for casual sex to search for a life partner. Either way, it appears to be the future of love and marriage.
---
Now you know how Americans are changing their attitudes about love and marriage. Many relationships that would have been unimaginable decades ago are now the norm. 
Do you want to read more blog posts like this one? Check out our blog to explore more about lifestyle and relationships.