It has been almost a full year since the COVID-19 Pandemic started. Crazy, huh? I feel like time has gone by both fast and slow—it just depends on the day. With the way things are going, it looks like there is light at the end of the tunnel. However, that does not mean life will be "normal" in 2021. It's still going to be very important to stay home as much as possible until everyone can get the vaccine. That means more time at home—especially in our bedrooms.
I've been in my bedroom a lot this past year—more than I ever have before. Not only do I sleep in my bedroom (duh), but I also work in my bedroom, too. My WFH setup is in the corner. Since I do spend a lot of time in my bedroom these days, it has become extremely important for my mental health to make my space charming and cozy. Since the pandemic started, every few months I have been changing up my space—simply to keep my spirits up.
If you are also in your bedroom a lot these days, here are a few ways you can revamp your bedroom without breaking the bank:
Opt for Colorful Bedding
If I'm not in my bed, I'm looking at my bed, so it has become very crucial for me to have nice bedding. Instead of basic white sheets, I have been opting for prints and colors this past year. I'm currently in love with my rust orange bedding from PeachSkinSheets. These sheets are only $65 and they feel like they have have a thread count of 1500—the quality is outstanding. My sheets are called Pumpkin Spice, but they have a ton of colors available. I really wanted bedding that would warm up my space for the colder months, and this color has been perfect.
I also have been changing up my duvets. I've been switching between a basic white duvet and a tan duvet with pom-poms.
Invest in a Rug
My rug revamped my space in a big way. Rugs can get expensive, so be on the lookout for sales on Wayfair, Overstock, and RugsUSA. I purchased my 5×7 rug for $120 from Wayfair back in April. Will you just look at that difference?!
Replace Your Decorative Pillows Often
I like having decorative pillows on my bed—I feel they add style to my space. Unfortunately, I get tired of bold prints very quickly, so I have been changing mine up every few months. To keep it affordable, I have been purchasing my decorative pillow covers from SHEIN. The pillow covers currently on my bed are only $3 each. You can buy the inserts for them on SHEIN as well as Amazon, or you can pick some up on your next IKEA run.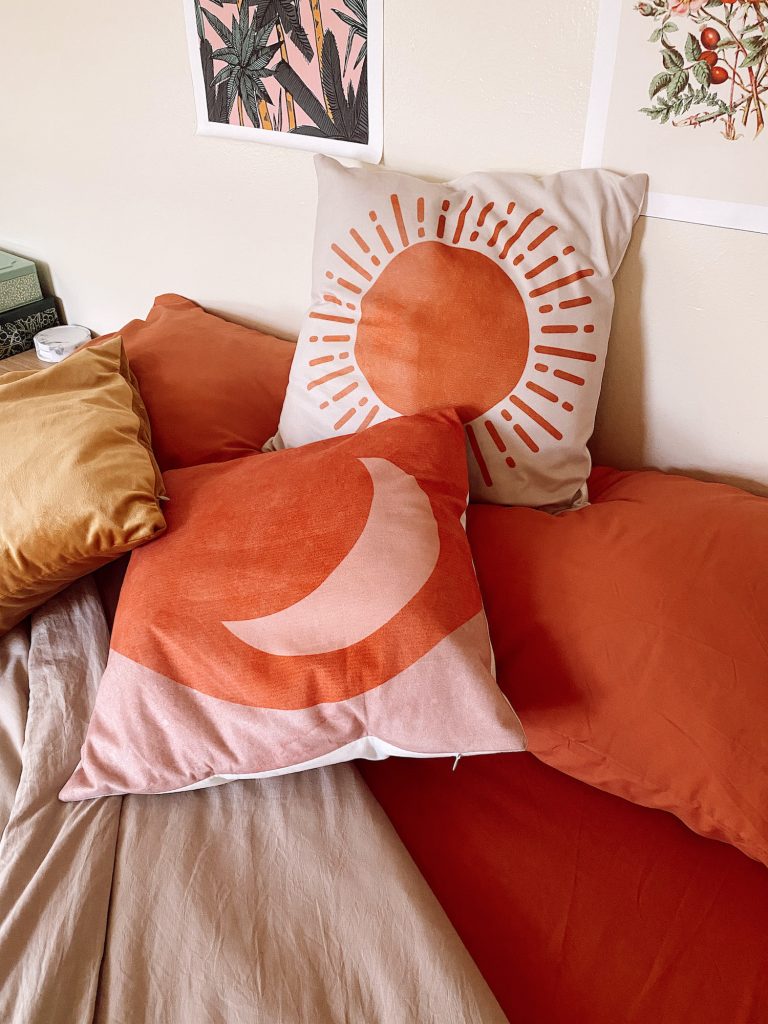 Replace Your Dresser Knobs
When I first moved into my apartment, I wanted a specific dresser from IKEA—the HEMNES in white. Unfortunately I moved to Los Angeles literally only 3-weeks before the shutdown happened. I stalled getting a dresser because purchasing a mattress, bed frame, and a desk were more of a priority and I had to budget. Then all the stores closed…
I would have just bought a used one from Craigslist or FaceBook Marketplace, but I was all by myself, and didn't have anyone to help me lift it or transport it. Then one afternoon I found a white dresser on FB for $120, and I was told they would deliver it. Score! It wasn't the dresser I wanted, but hey, it was close enough. Plus, it was more than $100 cheaper.
The hardware that came with the dresser was silver, which I didn't like. So I decided to change the hardware color to black to make it look more like the IKEA dresser I wanted. I think it worked!
Since it was so affordable to change the hardware, I may give gold hardware a try in a few months.
Add Some Plants
Adding plants to my bedroom has not only enhanced my bedroom decor, but these plants lift my mood each day. I just love my little succulent friend. I even incorporated fake flowers into my decor—just for a pop of green. There's just something about greenery that can really open up your space.
Add a Large Mirror
My whole space opened up the moment I added a large floor length mirror. I love this mirror so much—it's pretty and it's the perfect spot for my outfit photos. I found this one for $50 at IKEA.
Display Your Skincare Routine
I have always kept my skincare products in the bathroom, but I've been eyeing those mirrored trays for awhile and decided to purchase one a few months ago. Not only does it make my dresser more aesthetically pleasing, but it encourages me to follow through with my skincare routine each morning and night.
The one I purchased from Amazon for $23 is no longer available, but here are similar ones at two different price points—$20 and $55. I also linked all of my skincare, wellness, and beauty products below. I love them all! If you are curious about any of them, DM me on Instagram, or shoot me an email.
All of these things have really helped revamp my room to make it a nice place to be during these trying times. If your bedroom is no longer an inspiring place for you, consider one of my affordable tips.
xoxo,
Amanda
Read more: