As a broke fashionista living in New York City, I jump for joy whenever I can save a buck or two. It all adds up! But being a bargain hunter does have its downfalls.
For one, I might have to go to multiple stores before I'm able to find what I'm looking for at an affordable price. Who has the time for that? In this day and age, not many. That's why when I was introduced to Trendslove, I jumped for joy!
Trendslove helps you shop and save on the latest fashion, beauty and home decor trends. Everyday, Trendslove curators scan new arrivals and feature a selection of products from popular brands following the latest trends. Trendslove features the best from over a hundred brands like Nasty gal, ASOS, Heels.com, Nordstrom, Shopbop, Anthropologie, Sephora, etc…
Each added product is defined by a set of hashtags which help you navigate the site easily, for example #dress will show you all the latest dresses added, #boho or #fall will let you shop by style. You can also search for brand hashtags (#asos, #sephora) to see all products from a specific brand.
In addition to the curation of products, Trendslove also offers cash back savings and/or dsicounts on all of its brands. For instance, you will earn 10% cash-back on any product purchased from Sephora. The savings become noticeably significant when looking at higher value items like Steve Madden boots or products from Nordstrom.
Finally, the cash-back savings are always combined with on-going coupons, codes or sales from each brand's website.
How to Use Trendslove
To get the Trendslove savings, all you have to do is click through on a product, bringing you to the brand's website, and make your purchases! Then 24 to 48 hours later, you will receive an email notifying you that you have cash-back pending in your Trendslove account. 60 days later, the cash-back becomes available for you to claim via Paypal.
You don't get your cash-back right away to prevent getting numerous checks of small amounts. A lump sum is always better if you're a frequent online shopper!
So sign-up for Trendslove and follow the trends on social media via Pinterest, Instagram, and Twitter.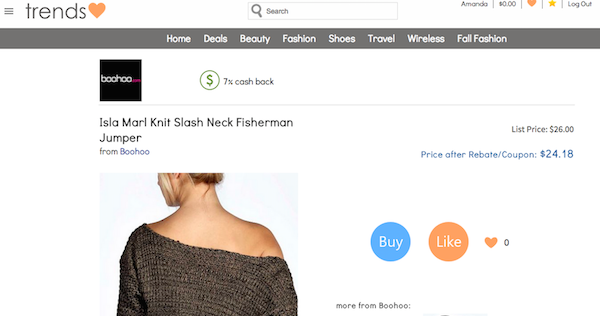 How do you save money? Let us know in the comments below!