I've always considered myself a fashionista. From new trends just hitting the runway, to loved classics that never go out of style—I love (and want) it all. Unfortunately, many trends out there don't accommodate the woman with a larger bust (such as moi). On a regular basis, I find myself in a dressing room in the cutest jumpsuit, dress, or shirt, saying to myself "I wish I could buy this, but I can't wear a bra with it." And back to the rack it goes. I'm a 38DD, so going braless is never an option. I've been envious of those with smaller busts my entire life, not because I don't have self-esteem or confidence, but because I miss out on wearing a lot of the things I want to. Over the years, I've seen ads for boob tape, but most on the market don't go past a B or C cup, so they were always out of the question for me. Until recently…
When Perky Pear reached out to me, I was skeptical. Never has a boob tape worked for me—and I've even used the strongest of all…duct tape (don't do it, friends!). I initially assumed that they would only have options for those with a small bust. As someone with larger boobs, I'm well aware that they are heavy…and I just don't trust tape and sweat. Why go out in a sexy outfit when you can't dance due to sweat? Anyway…that is just me being skeptical. In the end, I really liked Perky Pear…so much so that it may be my "bra" option for my wedding in December.
Keep reading for my full review of Perk Pear:
A 38DD's Review of Perky Pear, the Original Lift & Shape Tape
About Perky Pear
Perky Pear is type of tape that replaces the need for a bra—lifting your chest so you can wear those low cut and open back look without having to worry about support.
According to their website:
"Our Original Lift & Shape Tape was the first tape in our Tapewear® range est 2016. Offering the same results as a surgical lift without the cost or down time! Increase your wardrobe options and wear those tricky necklines!
Our tape features our patented Heat Activation Adhesive Technology to allow adhesive to bond gently to the skin activated by body temperature. With the same elasticity as human skin, our tape is a lightweight cotton second skin feel which stretches & moves with you for long lasting hold."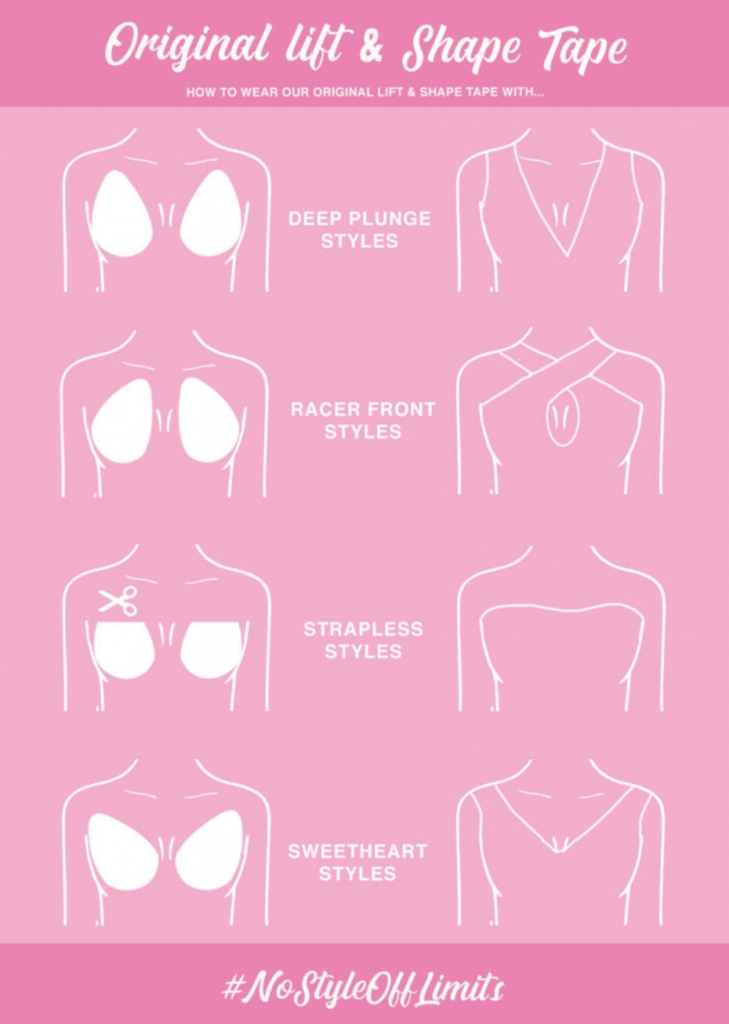 Where to Buy: You can purchase Perky Pear on their website as well as Boohoo and Pretty Little Thing.
Price: $24-$40 *comes with 2 sets
Putting Them On
I'm very thankful Perky Pear comes with two sets, because I messed up my first application. Putting one on was perfectly fine, easy even, but putting on the second? That was a different story. My placement was off just slightly, and that made my boobs look extremely uneven—not a good look. I thought I would be able to quickly fix it, but it doesn't work like that. Once I pulled it off and re-applied, the product lost the stickiness and I had to throw it away and use one from the other set. Once I knew what to do, putting the new one on was no problem—but having someone to help me would have been ideal.
Dancing Throughout the Night
I went to a Red Light Vinyl DJ set in DTLA to see my friend's set. I wanted to wear my new black jumpsuit, but I also knew I wanted to dance. It was a hot August night, and dancing was no problem. My Perky Pear tape stayed put throughout the night!
Pros + Cons
Pros
They stay on! I went to my friend's DJ set at Apotheke in DTLA on a hot summer night and they stayed put the entire time. I was so relieved!
They are easy to take off—but do follow the directions. Taking them off with coconut oil was their suggestion and it worked just fine. If you don't take it off with a lotion of some sort, it will hurt.
They come in a Beige, Brown, and Black.
Cons
You have to get the placement right the first time. If you have to pull it off to try again—even a little bit—it no longer sticks and it needs to be thrown away.
If you're using Perky Pear for support and shaping, having someone to help you with one side would be ideal, and that may be awkward for some. This is especially true if your neckline will have your cleavage on full display. A friend/partner will be able to help you ensure they look even and symmetrical.
At $23.99-$40 for a set of two, they are expensive. Since I ended up messing up one side, I made the second set useless, so for one wear, it was $23.99. It's only financially realistic for me to use Perky Pear every once in awhile due to the price. *Perky Pear is cheaper if you purchase on their website directly (vs. their retail partners).
Overall
I loved Perky Pear and I'm beyond impressed that this tape actually held my DD's up without any issue. My only wish is that the tape was more forgiving of mistakes upon first application. Having to lose a full set was a bummer. I'm getting married in December and my wedding dress has a plunging neckline. I've been stressed about finding the perfect bra, but Perky Pear may be my lifesaver. I plan on purchasing another set for my first alteration appointment in November. If Perky Pear works out, I'll purchase another set for my big day.
Have you ever used Perky Pear Lift & Shape tape? Let us know in the comments below!