Yesterday marked the last day of Fashion Week in New York City. We're definitely sad, but we're excited to see what London Fashion Week has in store for the fashion industry.
Of course seeing the new collections from our favorite designers is enjoyable, but nothing beats street style. NYC's most fashionable residents attend NYFW every season, and believe me when I say this — they're the real taste makers. Below are our favorite trends we spotted outside of Lincoln Center (where the magic happens).
Enjoy!
1. Moody Florals
We're loving the resurgence of moody floral prints from the 90's! Proof that not all floral prints have to be ultra girly.
2. All Black
Want to look like a tough-as-nails fashionista? Consider wearing all black the next time you go out with your friends.
3. Metallic
Metallic shoes and prints are up-and-coming and should be taken advantage of this fall.
4. Black and White
This combo will never go out of style. Never!
5. Tulle
Have you always wanted to be a prima ballerina? We're loving how these ladies wore the famous ballerina poof! You may not have the moves, but you can at least have the look.
6. Plaid
How can you say no to plaid? It's classy and perfect for the upcoming fall season.
7. Pattern-Mixing
Pattern mixing can be difficult, but these ladies pulled it off perfectly!
8. Rainbow Hair and Lips
We loved all the off-beat hair and lip colors! Consider giving it a try if you're getting bored with your look.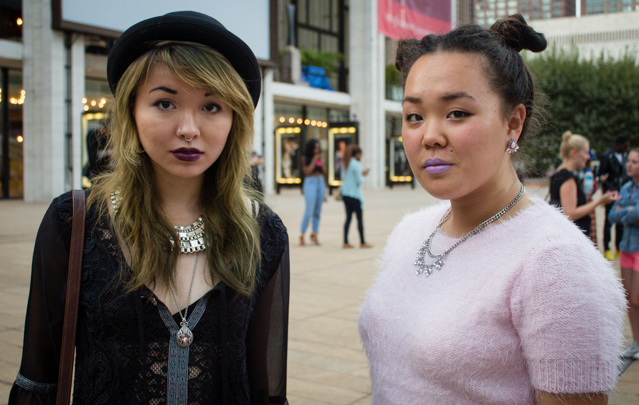 9. Hats
We love hats since they automatically make outfits more interesting. They're also great for hiding bad hair days!
What trend from NYFW are you going to try this September? Let us know in the comments below!