Can you believe it's already March? 2014 has flown by! After a solid month of testing beauty products, we've decided on our March 2014 faves that we think you'll love!
1. Rusk Texture Spray
Spray a little on your ends right before you use your curling iron for last-all-day curls with tons of movement. For straight hair, spray between your layers for a piece-y windswept look.
2. Rock Your Hair Volume Powder
This powder will add that extra oomph you've been craving! Simply sprinkle a bit to the roots around your crown. You'll also want this stuff around if you like doing at home up-dos.
3. C. Booth Nourishing Dry Oil Mist
The Honey Almond Dry Oil Mist from C. Booth will easily become your favorite product. It absorbs into the skin fast so it's a perfect after shower moisturizer. This dry oil spray is also non-comedogenic and mineral oil free, making it safe for the face. It smells great too!
4. LAQA & Co. Nail Polish
We're totally obsessed with the nail colors from LAQA & Co., our favorite being Greedy Guts — it's a fun magenta color! They also make nail polish pens which are great for girls on the go.
5. Mario Badescu Facial Spray
Have dry skin? Travel often? Need a makeup setting spray? Then this facial spray from Mario Badescu is for you! This product is made with herbal extracts and rosewater for a pleasant pick me up for dehydrated, tight and uncomfortable skin. It also doubles as a makeup setter.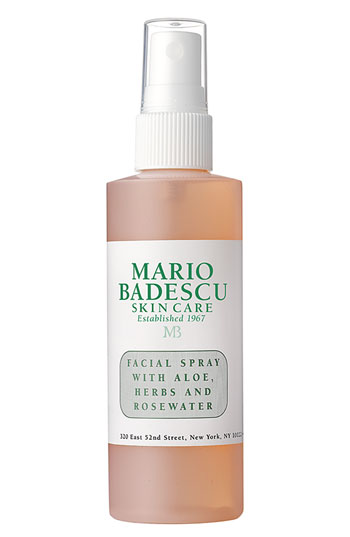 6. Suave Professionals Moroccan Infusion Styling Oil
Suave has finally launched a collection made to rival Moroccan Oil. Just like Moroccan Oil, this product is infused with Argan oil and smells just like the original. Apply it to damp hair right before styling to add moisture and to protect hair from heat.
7. Paul Labrecque Repair Finish
Have extremely dry, frizzy and course hair? If so, your hair may need some TLC. Apply the Repair Finish by Paul Labrecque to your hair after styling. It'll tame the frizz, soften your locks and replenish moisture to give you healthy looking hair. Perfect for over processed, bleached hair.