If your lover happens to be a chocoholic, you will luckily get away with any old soft centers in a heart-shaped box. Ethical sourcing, quality and richness of the chocolate are more likely to sway the sentiments than a pretty bow – and the best chocolate makers know it. 
Here is a selection of the best romantic treats that not only look enchanting and taste delicious, but which have been made using the finest cocoa, sourced by makers whose hearts are in the right place:
Prestat Heart Boxes
It's absolutely true that boxes of chocolate don't come better than Prestat's Heart Assortments. These boxes are classically classy, and the contents are rich and consistently fine. These little heart chocolate gift boxes, which are a mix of chocolates and truffles, are perfect for any day when the heart seeks comfort. 
Image Source: Pinterest
Azra Chocolate Shoes
Made for the women who love chocolate and shoes, Azra chocolate shoe collection is luxuriously delicious and finely crafted in the UK. These 100% edible chocolate shoes are handcrafted using the finest Belgian chocolate. 
Hand-finished to create a leather-effect brushed with edible gold luster dust, this chocolate shoe measures 7 inches long and stands 5 inches high. 
No other chocolate creation caused quite as much of a stir on the aristocrats' food desk as these shimmery, beautiful heels that are almost too good to eat – but not quite.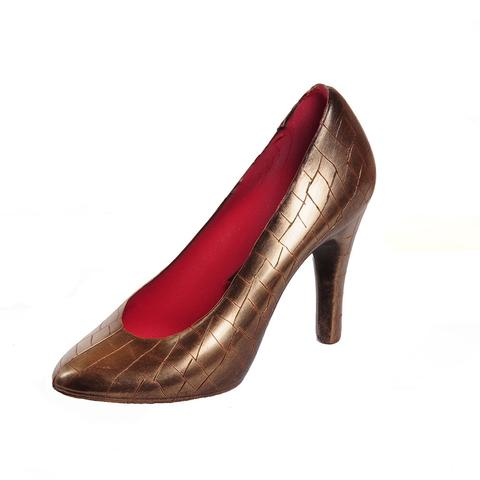 Image Source: AZRA
Hotel Chocolat The Everything Sleekster Chocolate Gift Box
Hotel Chocolat's has an extraordinary range of chocolate gift boxes to suit every budget and inclination. I liked The Everything Sleekster Chocolate Gift Box with 27 star-studded milk, dark and white chocolates that I handpicked myself. 
Image Source: Pinterest
Delafee's Gold Chocolate Gift Boxes
Delafee's luxury gold chocolate gift boxes are the combination of the most delicious and sensual pleasures in the world: Edible gold for food and the finest Swiss chocolate. This set of 8 chocolate truffles is made from a "Grand Cru" chocolate from Ecuador and offers the perfect experience of satisfying chocolate experience. 
Image Source: DELAFEE
Cocoa Runners The Chocolate Lover's Hamper
If you are wooing a serious chocolate connoisseur, Cocoa Runners The Chocolate Lover's Hamper is the thing for you. You don't need fancy boxes and pink bows to seduce a chocolate lover; these simple but elegant chocolates will surely find a place in his/her heart for their seductive flavors of fine bars from far-off lands.  
Image Source: Cocoa Runners
Godiva's Heart Gift Box
Continental charmers have always relied on a box of Godiva chocolates as a seduction stand-by, but lately, the Belgian people have up their game – with their soft-centered collection winning million hearts. Godiva's Heart Gift Box with top-quality cacao and so many flavor combinations can satisfy even the pickiest sweetheart. 
Image Source: Pinterest
Pierre Marcolini Pyramid of Hearts
Pierre Macrolini is undoubtedly the master of the spectacular, and that his presentation is so enormous that it delights lovers of gloss and glam. But beneath the tremendous exterior is the rich, exceptionally high-quality chocolate sourced from producers that the Belgian chocolatier knows well. Pierre Marcolini's Pyramid of Hearts is the best play of his creations available online. 
Image Source: Pinterest
Paul A Young's Chocolate Box
Paul A Young is a ginger-bearded genius of the truffle and ganache, and his chocolate gift box collection is a world tour of flavors inspired by romantic cities he has visited. You can fit the gift intensity depending upon your budget. 
Image Source: Pinterest
Chococo's Love Box
If you are actually into chocolates, you will know of Chococo, and your chocoknowledgeable beloved will appreciate the intensity of a Love Box: the locally sourced ingredients, the single origin chocolate, and the sense of fun that supersedes everything that the brand produces. Thoughtfully enough, there are two of each type in the love box: No Arguing in Love. 
Image Source: Pinterest
What is your favorite chocolate? Let us know in the comments below!