The Great Gasby premier is only three days away! It was an epic book and we have a feeling it'll be an epic movie. The story takes place in the roaring 20's, and so we've suddenly found ourselves wanting to experiment with the flapper-esque style in our own wardrobes.
Below are ways to add the roaring 20's into your daily life — without looking like you're about to go trick or treating.
1. Pearls
Pearls are timeless and have not once become out-dated. The next time you wear your LBD, just add a long faux pearl necklace!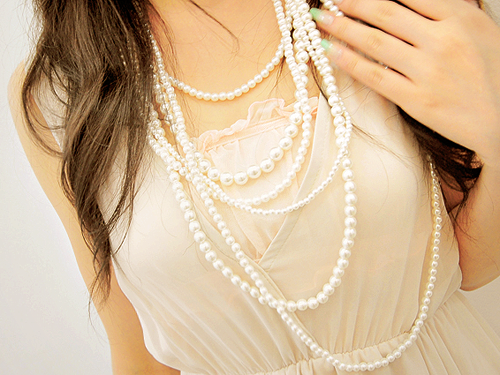 Pearl Necklace & Earring Set: $12 Unique Vintage
2. A Detailed Dress
The 20's was all about extravagance and detail. Dresses with beading, embellishments and fringe were extremely popular. Below are a few modern dresses with that 20's flair.
Twirl a Tale Dress: $55 ModCloth
Beaded Dress: $32.80 Forever 21
Hazel Dress: $120.75 Darling
3. T-Strap Heels
Pair one of the dresses above (or one similar) with a pair of T-strap heels. They aren't very high so they're easy to walk in. You can also find T-strap flats at Urban Outfitters!
T-strap Heels: $48 Unique Vintage
4. Scarf Coats
I personally love these! They add some pizzazz to an overall blah outfit (aka: jeans and t-shirt) and they're perfect for the unpredictable spring weather. Don't be afraid to pair one with a simple dress or a maxi skirt as well!
Beaded Scarf Coat: $150 Unique Vintage
Tribal Shawl: $16 Heavenly Couture 
5. Wide Headbands
Add a wide headband to your hair. If you have a scarf laying around, that would work just fine too!
We really like this one.
Bracket Headband: $11.99 ModCloth
6. Accessorize Properly
Add a cocktail ring and a beaded evening bag the next time you go out. If you need glasses, Warby Parker just came out with a limited edition 20's inspired collection!
If you love hats, keep your eye out for a 20's inspired hat. They are unfortunately hard to find at modern day retailers, but easy to find at vintage/thrift stores and Etsy.
7. Change Your Makeup
The makeup look back in the 20's was very dramatic: strong smokey eyes, dark lip, blush and a ton of contouring. To update it, wear a burgundy lipstick that's glossy and give your eyes a subtle cat eye. Also, don't add eyeliner or mascara to your bottom lash.
Are you excited for The Great Gatsby movie? Let us know in the comments below!