I'm personally obsessed with skincare; I've religiously put sunscreen on my face every morning since I was 15 years old. I never go to bed with makeup on my face, and the idea of getting wrinkles stresses me out.
As a former beauty industry professional, I found that many older woman didn't start using serums or proper anti-aging skincare products until they saw the physical signs: sagging skin, brown spots, wrinkles, etc.
Prevention is key — wear sunscreen, eat right, get enough sleep, and really baby your skin at night. Night creams and serums are a great way to give your skin that extra TLC it deserves. Below are five serums that deserve a spot on your vanity table.
Kiehl's Midnight Recovery Concentrate
After the first day, my skin was glowing, and despite my four hours of sleep, I woke up looking like I had at least eight.
Yes, it's an oil, but I personally didn't have any problems. Definitely give this stuff a try if you feel your skin is looking a bit dehydrated and dull.
Kinara's Lactic Acid Hydrating Serum
With the main ingredient being lactic acid, this serum is powerful and perfect for those who have oily skin and find themselves struggling with monthly breakouts. Kinara's gel-like serum hydrates, exfoliates, refines skin texture and combats skin eruptions.
I've used this stuff once a week for the past year, and I still have some left!

Elizabeth Arden's Visible Difference Optimizing Serum
The retinal complex in this serum renews skin's clarity and texture as it evens skin tone. It's also great for sensitive skin as it's light and non-comedogenic.
I put it on my neck as well!
Nourish Relax Hydrating Peptide Serum
If you have problems with redness and dryness, this lavender infused serum will be your best friend. Also in the green beauty category — it's 85% all-natural and perfect for those who are looking for a hydrating, calming and cooling addition to their skincare regime.
Looking for more green beauty products? Definitely check out Ethical Superstore and Mychelle.
Lumene Age Defying Radiant Beauty Drops
This is the most budget-friendly of the bunch and can be found at your local drugstore. These drops are perfect for tired and dull skin that needs some brightening.
Use one capsule a day for a month and you'll start noticing a difference in your skin's appearance by week two.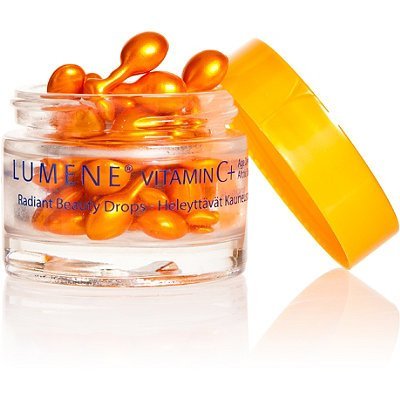 Do you have a serum or night cream that you're madly in love with? Let us know in the comments below!