Wedding Season is pretty much over, but Engagement Season is just beginning! If you love looking at the engagement bling, you'll have to check Instagram and Facebook on the reg. If you hate it, then you'll have to avoid all forms of social media until late February.
If you're more of a hater when it comes to engagement rings on social media, is it because you hate anything and everything wedding? Or are you just tired of seeing the same princess-cut white diamonds?
I'll admit it myself, I definitely give some serious side-eye when girls show off their "one-of-a-kind" white diamond solitaires. Boring!
When I get married, I want my ring to be unique and stunning — truly one-of-a-kind. No white diamonds for this girl!
Below are seven beautiful engagement rings that will truly make you stand out.
1. Go Grey
Black diamonds are starting to become acceptable in the land of engagement rings. But grey? My eyes lit up with excitement when I saw this grey stunner on Fragments.
Sethi Couture Ring: $4,240 via Fragments
2. Go Royal
If it's okay for Kate Middleton, then it's okay for me. How can you not swoon over this sapphire ring?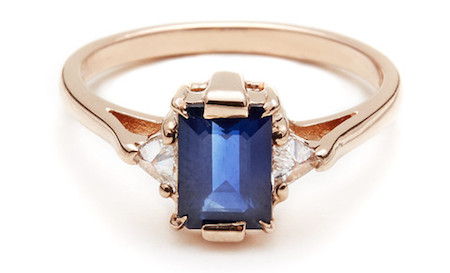 Blue Sapphire Bea: $3,500 via Anna Sheffield
3. Black Diamond Love
Still love solitaires? This black diamond ring from Steven Alan is gorgeous and it won't break the bank!
Black Diamond Solitaire: $1,995 via Steven Alan
4. Consider a Mineral
Want to avoid precious gems altogether? Tourmaline is considered a semi-precious stone, and the one below may be the most unique of the bunch.
Ambro Ring: $1,420 via D & I
5. Go Raw
Diamonds aren't found all sparkly and shiny. So why not sport an engagement ring in its true form? We're loving the raw diamonds available at Fragments. The one below is actually nine carats!
Vibe's Persephone Ring: $9,740 via Fragments
6. Go Minimal
Who says you even need something sparkly? If sparkle and bling just isn't your thing, consider wearing a simple band with some added flair instead.
Crown Band: $1,100 via Of a Kind
7. Go Green
Here's another minimalistic ring that has a small amount of bling — just in case you can't live without it. Green bling to be exact.
Aura Ring: $3,170 via Fragments
What ring was your favorite? Let us know in the comments below.
*We partnered with Fragments for this post.