There's no denying it—bra shopping sucks. It's like swimsuit shopping, but worse. When bra shopping, comfort and practicality are the most important things. The last thing you want is to end up with a bra that digs into your skin (wires, we're talking about you), a bra that is too tight or large, or a bra that doesn't provide the support you need.
If you're currently on the hunt for new bras, here are some tips and tricks to ensure you end up with the best fitting bra for your needs:
Make Sure The Bra Works with Your Outfit of Choice
If you have a pretty halter dress or a strapless shirt you want to wear this summer, you likely don't want any bra straps visible as this would take away from your outfit. That means you need to shop for a strapless bra. If you have a larger bust, this can be tricky because most strapless bras lack strong support—that's where invisible bra tape comes in handy. That way you can customize your fit for each occasion a strapless bra is needed.
Tip: To ensure you always buy bras that work with your wardrobe, it's best to shop in the outfit you need the bra for—or a style that's similar. For example, if you need a bra that works with your basic white tees, wear a basic white tee while bra shopping so you don't end up having to return your new bra because it's visible through your shirt. If you need a bra that works with the halter dress you'll be wearing for your best friend's wedding, shop in a halter top.
Make Sure it Actually Fits
Buy a bra size that fits, not one that is too tight or small or oversized. Wearing a poorly fitting bra is not only uncomfortable, but over time an ill-fitting bra could cause back pain and headaches. Unfortunately, there is word on the street that 80% of women are wearing the wrong bra size. Yikes!
To prevent this from happening to you, make sure you measure yourself with measuring tape before shopping, however it would be best to get fitted at a bra shop to get your correct measurements taken. Wearing a bra that actually fits will not only make you feel comfortable and confident in your clothes, but there are several health benefits as well—no back pain and no skin irritation.
Tip: Consider getting fitted for a bra by a professional once a year as our bodies are always changing.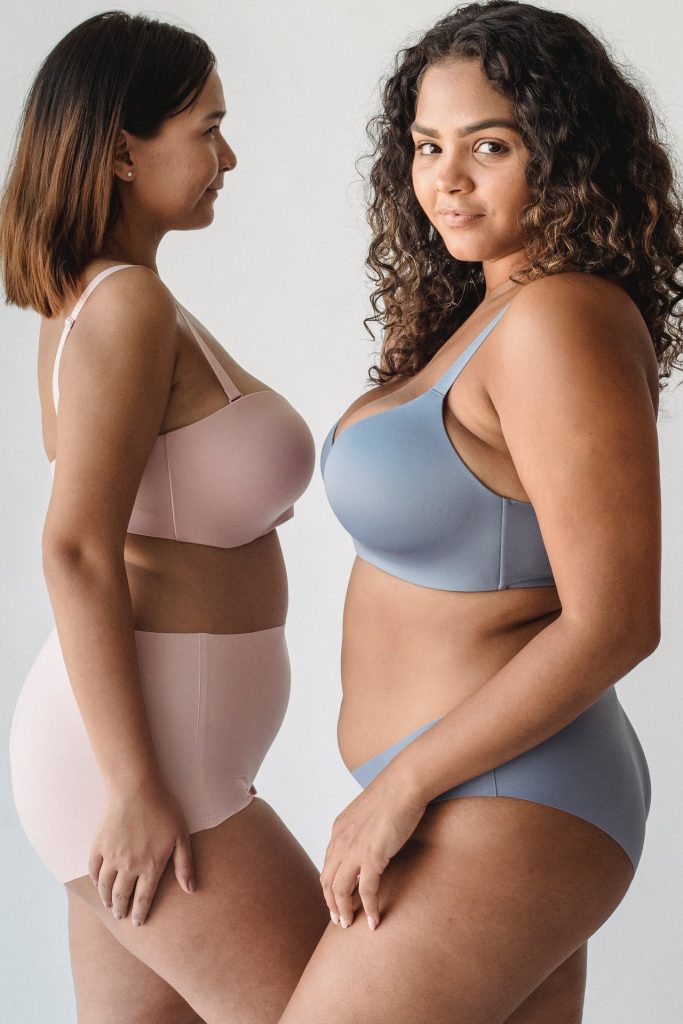 Wash Your Bras Correctly
Bras are made with delicate material, so it's crucial you wash your bras with that in mind. Otherwise you will shorten its life. Not only will washing your bra in a washing machine and dryer damage the hooks over time, but you will affect the bras fit; turning you well-fitting bra into a ill-fitting bra.
To ensure your bras last as long as possible, it's best to hand-wash them and air dry them. If you prefer using your washing machine, make sure you put your bras in a lingerie washing bag to prevent wire and hook damage—still air dry it, though! Otherwise the heat will stretch out the material. If you want to throw your bras in the dryer to "tighten them back up again," dry them on the gently, low-heat cycle.
Washing your bras gently and correctly will ensure your new bra staying well fitting for as long as possible.
Tip: When washing your bras, make sure you use cold water (heat and bras aren't friends) as well as a gentle detergent.
Have More Than One Bra
Most bras don't work with all outfits. A black bra would never work with a white top and a strapless bra is not something you would likely wear with a sweatshirt. That being said, it's important to have multiple bras to ensure you always have the perfect one for each outfit. This includes:
A strapless bra
A T-shirt bra
Invisible bra tape
A halter bra
A push-up bra
A wireless/unlined bra
A sports bra
A balconette bra (for those low-cut looks)
A sexy bra (because self-care is important)
Tip: If you find a bra you like, consider buying it in two colors—nude and black.
Bra shopping can be a pain in the neck—literally. However we hope these tips help you find the best fitting bra for your body.
*Photos by Antonius Ferret